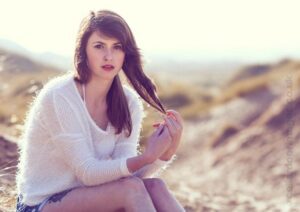 A Liverpool student is hoping to reach the Miss England semi-finals despite battling an aggressive form of cancer.
Seren Vivian, a 19-year-old student at Liverpool John Moores University, was diagnosed with a tumour on her appendix during her first year of university. Now in remission, the second year student is hoping to use her success in the competition to raise awareness about teenage cancer.
"I'd like to use the competition as a platform to reach out to girls, I want to help them to see that what has happened to them doesn't have to define them," she said.
The creative writing and drama student was diagnosed with a 16cm neuroendocrine tumour which was described as 'slow growing' meaning it was symptomless. She has since had half her bowel removed in order to stop the cancer spreading and says modelling has helped her to regain her confidence.
"I felt so low last year, all I could see when I looked in the mirror was an 'ill girl'. I was pale and had lost over a stone from surgery. I just had no confidence. But modelling helped me get it back," she said.
Vivian is hoping her success in the competition will help her to raise money and awareness for the Teenage Cancer Trust, which this week is launching it's Teenage Cancer Action Week. It aims to prompt earlier diagnosis in young people aged between 13 and 24.
According to recent figures released by the charity, almost a third of young people are only being diagnosed once their health has deteriorated so badly that they are admitted to A&E.
With over 2,000 children and young people diagnosed with cancer every year, the charity is hoping to promote the five key symptoms of cancer: pain, lumps, bumps, swelling, weight loss, extreme tiredness and changes in moles.
Vivian, who entered the competition after a friend suggested it, is now relying on the public to vote for her to make the semi-finals which will be held next June.
She said: "I entered thinking I didn't have a chance, so to get this far in it is amazing to me. I'd never thought about doing it, but a friend said it might help me so I decided to give it a shot."
If you would like to vote for Seren you can do so by texting MISS SEMI03 to 63333. Texts cost 50p plus your normal network rate.