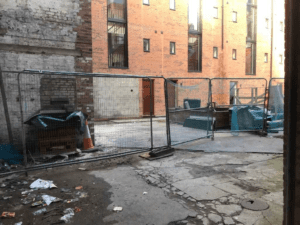 LJMU students who were left without a place to live due to building work have finally been able to move into the property.
Watkinson Street is finally home to second-year students after months of broken promises about moving in as, following a long period of renovations, the houses are finally ready to live in, although they are not fully decorated.
Property managers, Rooms4u, told the students many different move in dates, however they eventually compensated them with deducted rent.
Jack Lewis, who has since finished his Business course, claimed: "They said there would be a car park ready for when we moved in, but we moved in at the start of July and nothing had changed. It was still a massive hole filled with rubble."
Aimee Lawrence, 19, from mid-Wales told JMU Journalism: "Rooms4u originally told us we would be allowed to move into the new build in July. However, the date got changed to the beginning of August last minute.
Twitter: Grace Plowman
Student houses are finally ready to move into after being a building site for the last 3 years. @JMUJournalism pic.twitter.com/fkClc7LffW

— Grace Plowman (@grace_plowman) October 22, 2019
"I was devastated as I needed to work to save up for uni, and couldn't actually start uni when I needed to, leaving me behind in my course."
After calling the company to question the move-in date, Aimee claimed she was told three days before the house wouldn't be ready until "the start, possibly the end of August, although this was changed not long after to the start of September".
After missing the first week of university, Aimee and her flatmates were told they were being moved into temporary housing called Liberty Gardens, but said the place "wasn't very nice, and quite rowdy".
They were in temporary housing for two weeks, and eventually moved into the Watkinson Street property on October 13th.
To compensate, the students did not pay any rent until they officially moved into the new house, and were offered a welcome basket and a takeaway, which was fully paid for.
Karl McKenzie, the Landlord for Rooms4u, told JMU Journalism: "When it became apparent that the houses wouldn't be ready for occupation by the first week of term we had to react and find temporary accommodation"
"The owners cancelled all rent payments due before the groups moved in, paid for the temp accommodation and gave significant further rent reductions after the groups had moved in."