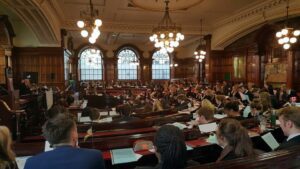 Liverpool school students came together yesterday at a United Nations Association event which aims to make young people more aware of international political issues.
The UN model event was held in Liverpool Town Hall where students discussed topics such as migration, terrorism, religion and sustainable development. Last week's terrorist attacks in Paris were also a popular talking point.
Lord Mayor of Liverpool, Tony Concepcion, attended the event and told students: "Talking is better than conflict. We live in a more dangerous world and the United Nations continues to play an important role. The objective then is to create a more sustainable world and it still remains the case. When people begin to cooperate nothing is impossible."
The UNA was developed after the Second World War and aims for a safer, fairer and more sustainable world.
Its policies are achieved by its peace and security programme, human rights and humanitarian programme and international development and environmental programme.
Philip Lodge, 75, Chair of UNA Liverpool, told JMU Journalism: "Young people are assets and they are the future so it is important for them to be educated about these issues."
The students, aged 16-18, came from Liverpool schools such as St Julie's, St Hilda's, Merchant Taylors' and Broadgreen International. They were put into small groups and represented a country they would speak on behalf of in discussions of policies.
Lodge was pleased with the event and believed the day was a success, saying: "The students came well prepared and they did their research. It was good to see them speak for their country rather than themselves.
"It's important for people to think wider rather than just how it's affecting themselves. Think global and act local. We are a global village."
Tim Evans, the chair's support, told JMU Journalism: "Today was probably the best day of education these students have had so far. They have gained so many skills and knowledge from being here."