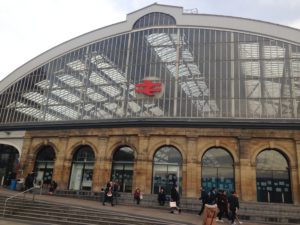 Northern Rail trains will resume a full timetable from this weekend as strikes have been suspended.
The National Union of Rail, Maritime and Transport Workers (RMT) has come to an agreement with Northern Rail to suspend the strikes, which had limited travel on Saturdays
This follows positive discussions between the parties in the long-running row surrounding driver-only trains, with the RMT now willing to reopen talks about the future role of the conductor.
Northern had confirmed that 700 trains were in service on each of the strike days, which is just under 30% of its normal services, with fewer trains after 5pm.
David Brown, Managing Director of Northern Rail, told JMU Journalism: "We warmly welcome RMT's decision to suspend its strike action. The suspension of the RMT strikes is good news for customers and businesses across the north."
Services to and from Liverpool Lime Street through to Manchester were widely affected by the industrial action.
Warrington commuter, Joseph Oakes, was one of those affected by the dispute. He told JMU Journalism "I had a number of problems getting back to Warrington to get to work last weekend as there were several trains cancelled and there were ones that didn't arrive at all.
"When they did they were incredibly slow and as a result I was late for work. I had to explain to my manager the problems which only caused further problems for the company.
YouTube: Liam Plumbley
"Hopefully the new full timetable will reduce any problems in getting to work in the future."
The newly-resumed full Saturday timetable will benefit travellers at local stations such as Edge Hill, Mossley Hill and West Allerton.
A spokesman from the RMT union stated: "Firstly, I want to pay tribute to RMT's members on Northern Rail whose resilience and determination though two years and 47 days of action has been the foundation on which today's major breakthrough has been based. They are an absolute credit to both this union and the wider movement."