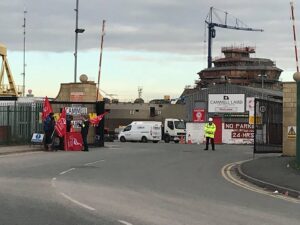 Shipyard workers at Cammell Laird have started a series of 24-hour strikes to protest over plans to cut 291 jobs.
The Unite and GMB unions have said 250 workers will take part in 10 weeks of industrial action at the Birkenhead site, following the news that 40% of workers could be gone by March next year.
More than 80% of workers in the Unite union backed strike action.
Cammell Laird CEO, John Syvret CBE, said: "To threaten strike action is counterproductive and only undermines our ability to create work for the community.
"We reject the misinformed claim that we are moving toward casualisation, the simple fact is that we are in a contract driven industry and, following a period of peak work, we are seeing contracts come to an end.
"I urge all to reconsider their position on engaging in industrial action and stop this campaign and turn their focus and energy in helping us to win more business."
Workers will be striking from 7am to 5pm, with rolling action until December 14th.
Twitter: Chloe Tomkins
Shipyard workers at the Birkenhead site spoke to me about why they are striking today. @JMUJournalism @gmbnwi pic.twitter.com/EPWpXVJmz6

— chloe ? (@chloemaytomkins) November 26, 2018
Despite the firm receiving £620m to support Royal Fleet Auxiliary tankers, employees at the site say they are in disbelief at the redundancies they are facing.
Jim Gallagher, who works as a welder for Cammell Laird, told JMU Journalism: "My main concern is the regulation of the yard. There's a rise in foreign labour which means we lose all our rights, premiums, overtime and sickness pay. This is even going back to when our grandfathers were in the industry, and this is a fight that we can't lose."
Another worker said: "I've served my time here since 1981, and I'm not just concerned for the workers but for the local community. Both sides of the water will be greatly affected by this."
Cammell Laird recently built the £200m vessel RRS Sir David Attenborough, which includes a yellow submarine named Boaty McBoatface after an online campaign.