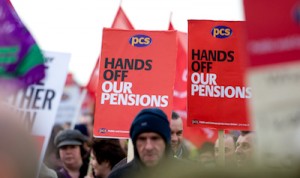 Thousands of people took to the streets of Liverpool today to protest against government plans to revise public sector pensions.
The march was part of a country-wide strike by public sector staff, including teachers and health workers, with suggestions that as many as two million people did not go to work.
Police estimate 12,000 people joined the march from the Pier Head to St George's Hall, where a rally was held.  Union officials addressed a peaceful crowd, which remained in good spirits despite a large police presence.
Lynne Collins, North West delegate for UCU (University and College Union), was among those who welcomed the support they had received from the people of the city. She said: "The solidarity shown today has been fantastic. Everybody we have come across has supported the people on strike today."
Carl Roper, National Organiser of the TUC (Trades Union Congress), added on Twitter: "Liverpool march applauded by shoppers as it goes."
Public services throughout Liverpool were disrupted. The majority of the city's schoolchildren were handed an unexpected day off as many schools chose to close.
The Royal Liverpool Hospital was open despite a picket line outside the main entrance, but many non-essential operations had to be cancelled.
JMU Journalism Radio: pensions strike report
Roads across the city were also unusually quiet as many motorists chose to stay at home, while both tunnels were closed, which meant up to 95,000 motorists had to make alternative travel arrangements between Liverpool and the Wirral.
Dave Thomas, a council worker, said: "This is not just about pensions, it is about preserving the future of my kids. I'm 57 and my working life is almost over. But things look really bad for the next generation and we've got to change that, starting now."
David Cameron and Ed Miliband clashed angrily in the Commons earlier today over the industrial action as the Prime Minister claimed the strike looked "like something of a damp squib".
The Conservative leader said his Labour counterpart was being "irresponsible and weak" as he had only just backed the march, with Miliband accusing the PM of "spoiling for this fight" and said people have lost faith because "he's not being straight".
Home Secretary Theresa May told the BBC she recognises people are concerned about pensions but that the government has made a "generous" offer and going ahead with the strike is "irresponsible".