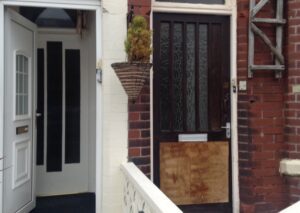 A campaign about staying safe and avoiding being the victim of crime is underway.
October is National Home Security Month and, as the nights draw in, burglaries become a lot more frequent, with Halloween and Bonfire Night being statistically the worst time of year for domestic break-ins. Crime rates are said to increase by 38% when the clocks go back, according to the National Home Security Campaign.
Students living away from home for the first time can often lack knowledge and understanding on how to keep their homes secure.
A spokesman for the NHSC Group told JMU Journalism: "One in six students fall victim to theft at some point during their university years. With shocking statistics such as these, we knew it was important to put together a short student security guide."
Highlights in the guide include not to leave bedroom doors and windows unlocked, even when nipping down to the kitchen. Students are urged to consider investing in a stand-alone battery powered alarm, also not to display valuables where passers-by can see them, and ideally to protect expensive items such as cash, jewellery or electronic devices in a portable, fireproof safe.
The Liverpool Student Union is currently working on projects to combat the issue of home security and keep residents feeling safe.
Ellie Peters,who works for the LSU as a community representative in the Smithdown Road area, told JMU Journalism: "This year we're hoping to run a campaign to raise awareness about the importance of security especially when students are renting privately.
"We remind people about remembering to lock the door, close windows properly, get taxis at the end of the road and check with landlords that all home security devices are fully functioning.
"Thieves tend to target the Smithdown Road area as they know it's inhabited by a lot of students."
YouTube: Yale UK
https://www.youtube.com/watch?v=FFHi_k6c8mU