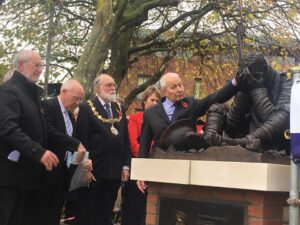 A statue commemorating the works of war poet Wilfred Owen has been unveiled at Hamilton Square in Birkenhead.
The sculpture marks the 100th anniversary of Owen's death, who was raised in the town before dying in action aged 25, just one week before the end of the First World War.
Named after one of Owen's many war poems, 'Futility' has been cast in bronze at a Liverpool Foundry by sculptor, Jim Whelan. The statue represents an exhausted World War One solider.
A small crowd of young people and war veterans alike gathered on Sunday to witness the revealing by Birkenhead MP Frank Field.
He said: "The height of the soldier is extremely important to me. It is not just a sculpture, it is a soldier that we can touch, and I think we should do that."
Twitter: Chloe Tomkins
Frank Fields, MP for Birkenhead said as he unveiled the statue: 'This is not a sculpture, it is a soldier we can touch.' @JMUJournalism pic.twitter.com/Mz3thOdtRt

— chloe ? (@chloemaytomkins) November 4, 2018
Marc Jones, son of the artist who brought Futility to life in artwork was also there on Sunday. He said: "My dad's drawing has been with me from a very young age. It was one of my favourites.
"The thing that always will strike me about this image is how striking and powerful it is. The illustration and with this statue as well, it is just what it is."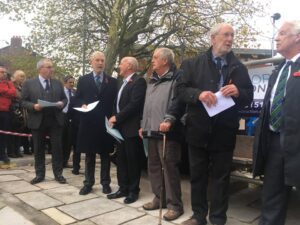 No fewer than 600 men from Birkenhead were sent to fight in World War One.
Members of the Birkenhead Old Boys Institute, where Owen was educated, read out a roll call for the 88 men who lost their lives all those years ago, in what turned out to be a very touching ceremony.
Mike Wallis, 71, a spectator and local resident told JMU Journalism: "I'm extremely happy that the sculpture has been brought to Birkenhead. It's a great way to mark Remembrance Day and to celebrate the works of Wilfred Owen.
"It's lovely to see people of all ages here as well to respect the soldiers that fought for us."
Other famous works by Owen, who died without knowing his eventual poetic legacy, include 'Dulce et Decorum Est' and 'Anthem for Doomed Youth'.