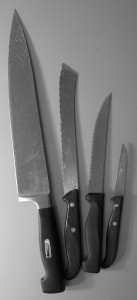 Figures have revealed that knife crime in Liverpool has increased by 13% in the last year despite initiatives to tackle to problem.
Merseyside is one of the top six regions in the UK for crimes related to knives. In 2014 there were 503 people cautioned or sentenced for possessing a knife by Merseyside Police, according to statistics released by the Ministry of Justice.
This is the first time in seven years that the area's knife crime rate has risen, whilst knife possession is also on the rise when compared to 2013, when 29 knife offences per 100,000 people were recorded.
Labour MP Jack Dromey, who is also the Shadow Minister for the Communities and Local Government, told JMU Journalism: "Violent crime is once again on the rise and key partners like Liverpool City Council faced some of the biggest cuts in history.
"This is wrong and the Government is letting down the people of Liverpool. The first duty of any government is the safety and security of its citizens, and that is currently a mass failing as it is not meeting the needs of the poeple."
In 2010, serious 'crime hotspots' were identified in central locations in Liverpool's city centre. The report was led by the Council's Citysafe group, which is tasked with confronting crime across Merseyside.
The Ropewalks area of Wood Street, Seel Street, Fleet Street and Bold Street were said to be key knife crime locations due to the high quantity of pubs and clubs.
A second area named was off Prescot Road, in Old Swan, while Clubmoor saw offences increase by more than 250%.
Merseyside Police Commissioner Jane Kennedy said: "I can reassure people on Merseyside that the police will not tolerate anyone committing crime with a knife and anyone caught carrying such a weapon should expect serious consequences."
Kennedy expressed her concern over these shocking statistics and insisted that the Merseyside Police are working hard in schools to educate young people about the dangers of carrying knives.