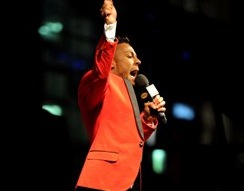 One year after their X Factor auditions in Liverpool, hometown heroes Marcus Collins and Craig Colton returned to the Echo Arena, as they joined seven other acts on the hit show's live tour.
With a strong line-up, the X Factor Live hit Liverpool, showcasing some real potential stars for the future, but also some acts that will soon be forgotten. Last year's winners, the girl group Little Mix, rose to the occasion, as did home favourites Craig Colton and Marcus Collins, while teenager Janet Devlin and boy group The Risk will not be remembered for their average performances.
Amelia Lily got the honor to sing the first song on the night, in what was a brilliantly produced two-hour long concert, before Crosby's Marcus Collins lifted the audience with his energy and stage presence, showing real star quality.
The X Factor runner-up performed 'Moves Like Jagger', 'Higher and Higher' and his brand new single 'Seven Nation Army' with real confidence and energy.
On several occasions, the former hairdresser took the opportunity to thank his fans for the "magnificent support" he has been given all the way from the auditions last year, standing on the exact same stage, to where he is at now.
https://www.youtube.com/watch?v=MAnapPKoIHQ
The biggest cheer on the night came, however, when Craig Colton arrived at the stage. The Kirkby singer charmed his many fans with his sweet smile and powerful voice.
Although most of the tunes were cover songs, Misha B gave the audience goosebumps with her version of Adele's 'Rolling in the Deep' to a flame-filled backdrop, following it up with her version of 'Proud Mary'.
In a typical Lady Gaga-style entrance, Kitty Brucknell did not disappoint the Liverpool crowd as she took to the stage on a massive Catherine wheel before blasting through 'Sweet Dreams' and 'Edge of Glory'.
Amongst the more disappointing acts, Janet Devlin, The Risk and Johnny Robinson struggled to perform anything above an average standard, with Johnny's 'Can't Get You Out Of My Head' the only exception.
At the end of the show, Little Mix were given four songs in a row to show why they won The X Factor 2011. to finish on a high note.
The Liverpool crowd can already return to the Echo Arena this Saturday as the auditions for the this year's X Factor starts.