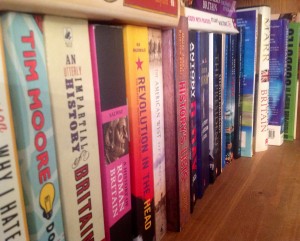 St Helens Council has launched a scheme which allows people to pay their late book fines in food donations rather than with money.
The initiative will run until December 31st and aims to help those who are living on the poverty line and relying on food banks run by Trussell Trust.
The fine of returning an overdue book to a library in the area can range from £1 up to £50.
All 13 of the borough's libraries are taking part, with individuals being encouraged to bring any non-perishable foods that they wish to donate such as tinned and dried foods, like beans or pasta.
Bill Renshaw, library management for St Helens Central Library, told JMU Journalism why they are involved in the initiative: "There are a number of reasons. We are aware that we are in an area of high deprivation and people come to our libraries and are sometimes not in the position to be able to pay all of their library fine, so we saw this as an ideal opportunity to kill two birds with one stone.
Slash your library fines by donating to @StHelensFdbank this month https://t.co/p43sVqI6bK#sthelens @STHLibraries pic.twitter.com/1nsAKG5IUB

— st helens unlimited (@StHelensUnltd) December 3, 2016
"One, to help the food bank initiative and the other is to help individuals to pay off their fines. So we found it was an ideal opportunity to do both at the same time and its proved to be very popular."
The town's food bank has a number of products that are in high demand. These are sugar, orange juice, tinned rice pudding, instant mash, tinned fruit, tomatoes, mixed vegetable, UHT milk and powdered milk.
Although these are the foods most requested, donations of other products will still be greatly appreciated as long as they are not fresh or perishable.
Donations will be accepted throughout the day between the libraries' opening and closing times.
The St. Helens food bank, where the donations will be sent, provides a minimum of three days' emergency food and support to those who are living in crisis.
YouTube: Can Cook UK