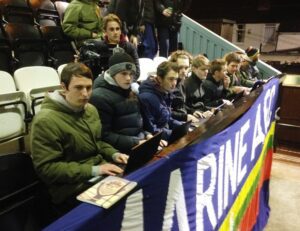 Imagine sitting on a plastic seat, freezing cold, penned in by bodies other side whilst balancing a laptop on your knees and trying to write a colourful account of who just scored a goal 100m away from where you're sitting.
Not an easy task under deadline pressure, but it was one that the third year sports journalism students from Liverpool John Moores University were faced with this week.
Swapping the comfort of the warm newsroom for the stands of the Arriva Stadium in Crosby, the students were tasked with completing a live report on Marine FC's 3-3 draw with Blyth Spartans in the Evo-Stik League Northern Premier.
Adam Jones said: "It was a really good game of football but really hard to report on when there are so many goals and it's hard to see some of them because they were at the other end of the pitch."
The fresh-faced sports reporters were kept on their toes as four of the six goals were netted in the last 10 minutes of the first and second halves. Combine this with sitting alongside celebrating fans in the front row and the challenge of trying to concentrate on the game is all the more problematic.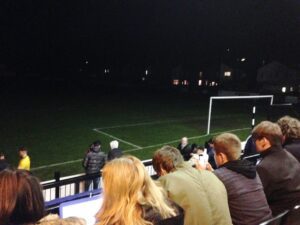 A further difficulty came just after half-time as the lights went out and play had to be halted for 15 minutes.
Dan Goulding said: "It's hard to condense six goals and then the floodlight incident into a 400-word report, but obviously you need some action and there was enough of it here."
Both sets of players battled hard for their point in an important non-league match but for very different reasons.
The Mariners are struggling for survival and hoping to climb out of the drop zone whereas the Spartans were looking for vital points to take them in to the promotion places.
However, the hosts failed to keep their slender advantage, conceding in the 89th minute – meaning rewritten stories all round for the budding reporters.
JMU Journalism video report by Daniel Wilson & Connor Dunn
The experience of working on a bitterly cold evening and not being able to watch the match as a spectator provided valuable knowledge for some of the students.
Jonny Coupe said: "Jobwise, I'd rather stick to being a fan and enjoy going to matches because as a reporter you're constantly thinking of different things. Not being able to enjoy the excitement is not for me."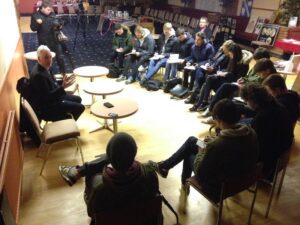 Sean Purvis agreed, adding: "I wouldn't like to do it as my job in the future because I'd rather just enjoy going to the games rather than watching out for every single move and writing down how each player performed."
Overall though, the reporters found the task a challenging yet enjoyable one, with comments on the bus back to Liverpool suggesting they realised they would have to start somewhere to learn the ropes of being a professional sports journalist.
Additional reporting by Daniel Wilson