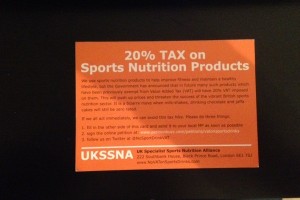 Fitness enthusiasts and gym-goers of Liverpool will have to fork out more of their money for sports nutrition drinks after a controversial new tax came into force this week.
As of Monday 1st October, many such products have 20% Value Added Tax (VAT) imposed on them. Protein powders, carbohydrate based drinks and creatine drinks are all included in the list of products affected by the charge.
These products were previously exempt from VAT and critics have questioned the logic behind the decision to tax products which are already far from cheap, given the success of the London 2012 Olympics and its intended legacy of getting more people to engage with living a healthy, active lifestyle.
The UK Specialist Sports Nutrition Alliance oppose the move. They say on a postcard, which members of the public can sign and send to their local MP: "The move sends out the wrong messages about the importance of exercise in improving public health and by forcing consumers to buy the products by internet from unregulated offshore locations will damage jobs and growth, and endanger public health."
Keen runner, Steven McNamee, 26, from Aigburth said: "It sort of feels like I'm being punished for wanting to stay fit and healthy. Why should I have to pay more money for things which help me do that? We spend millions of pounds in this country trying to tackle obesity, it's the fast foods and chocolate bars that should be taxed, not sports drinks."
One worker from sports nutrition and equipment shop Body Active, Victoria Street, Liverpool, who did not want to be named, said: "I think it's sort of singling out the wrong people. It's not going to be good for business if you're going to start taxing people that are trying to keep healthy. It's going to draw a lot of people away from training and buying the supplements."
"I think they are using the Olympics, obviously more people are interested in training and getting involved in sports, I think that's why they are adding the tax on because of the exposure the Olympics has given to sports and nutrition."
The controversial tax decision was first announced by Chancellor George Osbourne during the budget in May 2012, alongside the now infamous 'pasty' tax which has subsequently been dropped.