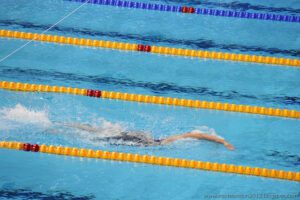 More than 70 people have joined a council-led initiative which encourages disabled people in Liverpool to get involved in physical activity.
The 'Active Me' programme was launched in December 2013, in partnership with Everton in the Community, which provides a coaching team for the initiative.
The aim is to get disabled adults involved in a range of sports such as athletics, dance, badminton and swimming. Figures show that less than a quarter of people living in Liverpool with a limiting disability are involved in physical exercise once a week – this amounts to only around 3,200 individuals.
The programme is funded by a £330,000 Sport England grant, along with financial support from Liverpool Mutual Homes and Your Housing Group. The first session is free, with all subsequent sessions costing £2.
The programme is initially offering support for people with mild-to-moderate learning disabilities, as well as visual and hearing impairments.
There are currently 10 sessions each week taking place at Lifestyles centres in Ellergreen, Everton Park, Garston, Walton and Peter Lloyd in Bankfield Road.
Steven Johnson, who is involved in the scheme with his work at Everton in the Community, told JMU Journalism: "One of the benefits is social interaction, that's a big benefit also increased self-confidence and self-esteem and learning new skills, and physical activity, as a lot of disabled people lead a sedentary lifestyle.
"All too often disabled people get ignored, for me it's about equal opportunities and community cohesion."
Assistant Mayor and Cabinet member for leisure, Councillor Wendy Simon, said: "We want to be able to eradicate any barriers which could prevent people with disabilities taking up a sport, and support them in trying something which may be new to them.
"Through Active Me, we want to see an increase in the number of people involved in physical activity every week. We're delighted to have so many have signed up since December, and hope to encourage even more to take part.
"We're committed to increasing inclusive sports participation at every level and with this new initiative hope to create a legacy of lifelong sport for disabled people."
One resident, Matthew Barrett, who started using the scheme in December, said: "I like the Active Me sessions, the coaches are respectful and helpful, encouraging and polite. It refreshes me and makes me feel happy and more confident."