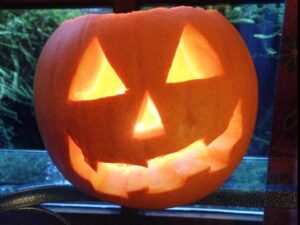 As Halloween approaches this Friday, JMU Journalism brings you a round-up of what's going on in and around Liverpool to mark the spooky occasion.
Thrill-seekers can climb aboard an historic Routemaster bus for the Shiverpool Ghost Bus Tour, which promises 'thrills and spills' for an evening laced with history, laughter and immersive storytelling. Tickets cost £16 for adults and £11 for children.
For two nights only, the 'Bombed Out Church' at St Luke's will take you back to 1931 as they are screening the original Frankenstein horror movie. Tickets for the event cost £6.50 and it is advised that you should be 12+ to attend the screening.
You can celebrate the 'Day of the Dead' at The Voodoo ball this year at Kazimier, where Rebel Soul will be combining Ancient Aztec and Catholic beliefs about the deceased. Featured artists include Family Atlantica, The Fontanas, We The Undersigned and Son De America. The event will take place on Saturday 1st November with tickets costing £6. Identification will be required as you must be 18+ to join in the revelry.
The Playhouse will be running a production of 'Room on the Broom' from Tuesday October 28th to Thursday October 30th.  There will also be a reading of the popular book to children before the show, where they will also be able to drink a special witch's brew. Tickets cost £12 for adults and £9 for children.
Summerhill Garden Centre will be holding their Pumpkin Nature Trail on Tuesday 28th until 31st October from 11am-4pm, which promises to be jam-packed full of activities for adults and kids. Visitors will be taken through the wooded areas of Thingwall Hall grounds and a prize will be given to every child wearing a fancy dress costume. The entrance fee is £1.
Medication will be hosting the 'Halloween House of Horrors', Liverpool's biggest and scariest Halloween Fancy Dress on the 31st October, with a pledge that this will be 'Med Evil'.
With many other themed events going on in the city – including what should be a scary unofficial fancy dress contest in the heart of town on Friday night – come on down to Liverpool this Halloween… if you dare!