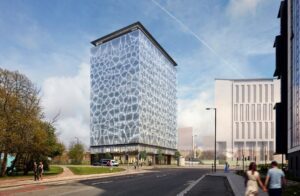 The futuristic design of a building to be known as 'The Spine' has been unveiled as part of the Paddington Village redevelopment.
Plans have been revealed for the east Knowledge Quarter (KQ) sector scheme, with the Liverpool City Region Combined Authority gaining a £12 million grant towards the cost of the £20m building work.
The Spine will be the new headquarters for the North Royal College of Physicians, in an area which will be dedicated to science, technology, education and health space.
Paddington Village will be home to a range of educational institutes, such as Kaplan International College, Rutherford Cancer Research Centre.
Officials want The Spine to be one of the healthiest workspaces for mental and physical wellbeing in the UK, and among the first to achieve the international WELL standard of modern building design when it opens its doors in 2020.
YouTube: KQ Liverpool
While the bottom three and top four storeys of The Spine will be reserved for the RCP, the remaining floors will be dedicated to the needs of organisations in the health, science and education sectors.
Professor Jane Dacre, president of the RCP, said: "The development of our new Liverpool home is really beginning to gather pace and the confirmation of its name feels like another important step forward.
"Central to the design brief was a sense that the new building must embody our commitment to well-being, benefiting both our team and our neighbours, and the WELL standard is the definitive measure of success in that area."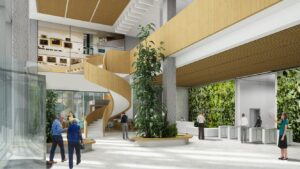 Morgan Sindall is working in partnership with Liverpool City Council to deliver the Paddington Village project. Phase one of the development is now underway and involves the installation of infrastructure, public realm works and the creation of development plots to make them market-ready. Phase two will see the arrival of The Spine.
Mayor of Liverpool, Joe Anderson, said: "KQ Liverpool is at the vanguard of the city's economic growth potential and the arrival of RCP North brings added momentum to our plans to create a world-class innovation district.
"The Spine is an apt name, not only due to its medical connotations, but also because this development forms the central backbone of our long-term plans for the Paddington Village scheme."
Colin Sinclair, chief executive of KQ Liverpool, said: "The Spine is another crucial step forward in our determination to attract the very best organisations and talent from around the globe, as well as creating thousands of jobs for the people of Liverpool."