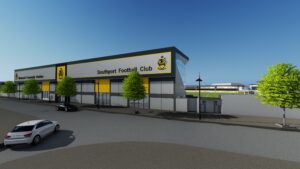 Southport FC have taken the unusual step of offering to pay for their opponents Covid-19 tests to ensure the safety of their players.
The Sandgrounders are set to play their fifth round FA Trophy game against Torquay on Saturday, despite the visitors admitting they won't be testing their players ahead of the tie.
Southport, who sit 17th in the National League North, have offered up tests to Football League hopefuls Torquay in what is seen as a baffling move from the National League leaders. Torquay are set to travel to Merseyside and stay in a hotel the night before the match. Even despite the South African variant of Covid-19 being present in Southport, Torquay have taken the strange decision to not test players.
Southport director, Ian Kyle, told JMU Journalism that the club are willing to use the money from the previous round to test both sets of players: "We decided very quickly that the money we got from the last game against Halifax, we would use that money to test the players, the volunteers and anyone else who is involved in the game so we would at least get the chance to play in the next round.
"We assumed that Torquay, being the league above, would be testing as well. It transpires that they're not. On the basis that we already have the arrangements in place to test our players, we have also made the offer to Torquay that we will test their players as well. Hopefully they take us up on that because we have expressed to them that our major concerns are that we're trying to protect the safety of everyone involved."
Following the announcement yesterday that clubs across the National League umbrella have 28 days to vote on the 'resolution' of the season, the FA Trophy is set to give Southport a breather from the continued controversy.
All clubs from the three divisions have been given the option to vote on the future of the season, although will potentially have to play until the decision is finalised. This all comes after the National League announced a controversial loan-based rescue package rather than a grant-based package.
Mr Kyle said: "All we've done is answer the resolutions. We did have a zoom meeting a couple of weeks ago where I raised the whole health and safety aspect and they were not interested in talking about it, full stop. They were only interested in the funding and what the funding situation is.
"They obviously appreciate the situation a lot of clubs are in, which are only going to be compounded now by a further 28 days without any income.
"I don't quite see how they have come to the decision to put it to the vote that we null and void the season but restart football in the meantime because how are these clubs going to pay their players in the meantime?"