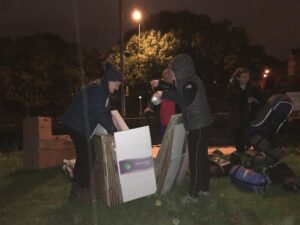 More than 100 people slept outside all night in atrocious conditions on the grounds of St James in the City Church on Friday to raise money for the Whitechapel Centre.
This is the fifth year the sleepout has taken place to support the leading homelessness charity in Liverpool. The aim of the event is to raise money and spread awareness about the problems rough sleepers face in the city.
It gives people a unique experience for the night of the reality of what it means to be homeless.
Entertainment for the evening was provided by The Choir with No Name, a Liverpool-based group made up of homeless and marginalised people, who performed throughout the night.
Ruth McCaughley, Fundraising Manager for The Whitechapel Centre, told JMU Journalism: "It's fantastic to see well over 100 people here sleeping out tonight raising money and awareness for such an important cause. I'm really pleased that so many people have come out for this event, especially with the rain and bad weather forecast."
YouTube: The Whitechapel Centre
Speaking of how people can assist the centre, she added: "People can support us financially, but we know not a lot of people are able to do so. You can volunteer some of your time to help at the centre, or even just pick up an extra toothbrush and toothpaste with your shopping and drop that into us. All of that helps what we do here."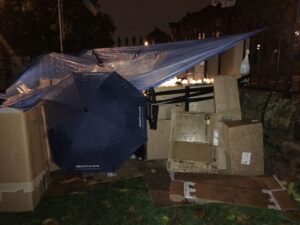 The Whitechapel Centre is open every day of the year, offering a 24-hour service. People are provided with food, a shower, clothes, and advice. For anyone who is at risk of rough sleeping that night, they offer an overnight shelter at Labre House for them to stay. The Whitechapel Centre operates on a 'no second night' on the streets policy and never turns anyone away.
Katie Corcoran, 30, who took part in the sleepout, told JMU Journalism: "I just moved into the city centre so I have started noticing the amount of homelessness a lot more. It's good to give people their own experience of it.
"It's easy for people to just walk past a homeless person in the street, give them a pound, then walk away and forget about them. If you're actually taking part in something like this and are outside and you're dealing with what they deal with on a daily basis, it gives you a lot more empathy towards their situation."
For ways to get involved with future events and how to help, check out the website here.