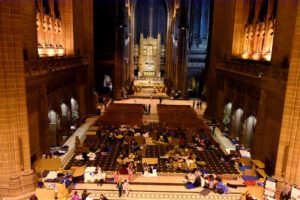 Liverpool's Anglican Cathedral and The Whitechapel Centre are set to join  forces to help the homeless.
Merseyside's leading homeless charity and the city's iconic landmark are hosting a 'Cathedral Sleepout', encouraging everyone to take part and raise funds in the process.
The sleepout, which will take place on April 6th, is aimed at those who often want to help people they see sleeping on the streets.
Ruth McCaughley, Fundraising Manager of The Whitechapel Centre, told JMU Journalism: "The Whitechapel Centre's vision is to see an end to homelessness, social exclusion and housing poverty in Liverpool. We can only do this by working in partnership with organisations like Liverpool Cathedral"
Speaking on why the problem is getting increasingly worse, she added: "There are many different complex reasons why someone can be homeless and we help people address these problems as well as finding suitable accommodation."
The occasion is a rare opportunity to sleep inside the country's biggest cathedral and while it will not be on the streets, organisers hope it will educate participants on the difficulties rough sleepers face on a daily basis.
YouTube: Shaun Keenan
It costs £5 per person to register and you must raise £50 in order to take part. All proceeds will be split equally between the two charities.
In January, Liverpool's largest housing charity opened their first night shelter, Labre House, on Camden Street. The shelter was the first of its kind, as it offered GP and substance abuse services.
The event is one in a long line of plans that The Whitechapel Centre has in order to tackle the rising numbers of homeless people in Liverpool.
Paul Smith, Liverpool Cathedral's Director of Enterprise, told JMU Journalism: "Not only does our Cathedral dominate the city skyline, it is core to the city's life. We welcome people from all backgrounds and our events are one of the ways we engage with the Liverpool-wide community and beyond.
"We are very pleased to host this event which will provide vital funds for both ourselves and The Whitechapel Centre. By raising money in innovative and thought-provoking ways we can continue to fund essential work and maintain our position in the life of the city."