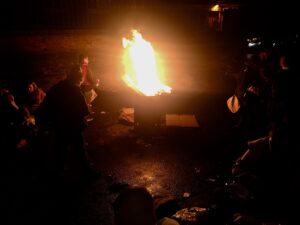 It was a successful night for one Wirral charity as they encouraged people to swap their beds for a sleeping bag, and volunteers proved very willing to get involved.
Charles Thompson Mission in Birkenhead held their third sponsored sleep-out to give people an insight into what it's like sleeping rough, and the issues faced when doing so.
The event was in high demand, with 100 places filled in just 48 hours. Drop-in centre manager Bernie Frost told JMU Journalism: "Through social media, it raises awareness and gets out to so many people when it has normally taken years and years to do, but the kind of support we get now is brilliant, especially around Christmas time."
The charity has been running since 1892 and aims to help men and women who are homeless, poor and needy, get out of poverty – with much of the work carried out by volunteers.
In 2016, the first sleep-out raised £12,000 to facilitate those in need. Last year, the figure rose to £15,000 raised, but Mr Frost,insists that this year will beat both previous records, although the final total is not yet known.
The 54-year-old told JMU Journalism: "We've already raised £14,000 and that's before all the rest of the money is in. It's a tidal wave of kindness, goodness and warmth coming in through the doors to meet the needs of those who are coming in with all kinds of issues."
Friday's event began at 8pm and concluded at 7am, with all participants spending the night outside the drop-in centre in their sleeping bags.
Food and drink was provided inside, with a bonfire lit for everyone to huddle around to keep warm.
The money that is raised will help to maintain the services the centre provides, such as feeding and clothing people, arranging health care and taking people out on treats. The centre also puts on hot food in the mornings, soup and sandwiches in the afternoons and cups of tea.
Facebook: Charles Thompson Mission
https://www.facebook.com/ctmission/videos/vl.141007873262272/1138210679647985/?type=1