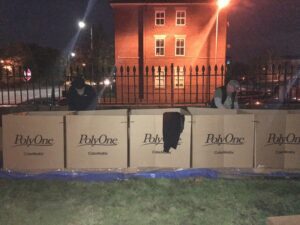 A sleep-out in aid of Liverpool's homeless community attracted loyal supporters on Friday as people camped out to show their solidarity.
The charity holds the event annually to help the homeless and this year it was staged at the St James in the City Church in Upper Parliament Street, attracting more than 150 people.
Dave Carter, the CEO of the Whitechapel Centre which organised the event, told JMU Journalism: "We have found an ever-increasing number of people who are finding themselves homeless. We need to versify our ways of raising funds so we can increase the number of services we have in order to meet those needs."
Hettie Smith, an organiser for the event, told JMU Journalism: "People bring plastic sheeting, cardboard so they will be building their own shelters, and all have been sponsored to raise money to help the homeless in Liverpool."
Last year's sleepout saw the charity raise £30,000, with more hoped for this year. Ms Smith said: "We would love to hit 40k. Everyone has done amazing."
There are many underlying causes of homelessness. Whitechapel told JMU Journalism that over 60% of the people that they work with have mental health problems and just under 60% have drug and alcohol dependencies.
Twitter: Faye Wasilowski
The back of St James in the City, where fundraisers camped out on Friday night for #liverpoolsleepout pic.twitter.com/dNQJakq8qX

— Faye (@Faye_journa1) October 14, 2019
Mr Carter said: "We should be investing in those services to actually stop people coming through the doors as homeless."
The charity provides many services under one roof, with tutors and materials to accommodate structured training sessions.
Whitechapel also has their 'Always Room Inside' initiative. It is an outreach service for the Liverpool area, which acts upon calls from the general public about their concerns about homeless people.
Carl Grundy, who attended the event with work colleagues, said: "We like to support local causes. This is a fantastic cause as The Whitechapel Centre help so many people within the community."
Tea, coffee, biscuits and soup were available throughout the night for those taking part, and this year,reusable cups and water bottles were donated to the charity.
Tom Farrell, 67, told JMU Journalism why people give their time to the charity. He said: "I think it is important that everybody should try and do what they can to help people who are homeless. By volunteering at the Whitechapel, I can play a small part in doing that. Anybody who looks around can see for themselves the number of rough sleepers."