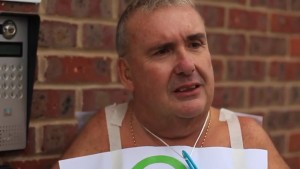 Comedian and Thalidomide victim Gary Skyner has halted his hunger strike after 35 days as German drugs company Grunenthal has offered to hold talks.
Dressed as a baby, Skyner took his protest to Grunenthal's headquarters in High Wycombe last week in a bid to force them into talks over compensation for victims. The halidomide drug was used in the 1950s and 60s to help pregnant women with morning sickness and was responsible for birth defects.
Grunenthal bosses had offered to put Skyner up in a hotel for the duration of his stay before indicating they would be willing to sit down and talk about the case. Gary, 55, from Aigburth, said he would suspend his strike for a fortnight and listen to Grunenthal's offer.
On Facebook Skyner said: "I'm in this dispute for the long haul and this whole matter is going to spread and get louder unless Grunenthal recognise that anybody crazy enough to wear a nappy and nothing else in a car park in February is well capable of more head on action."
Skyner, who had said he was prepared to die in order to get justice for the 468 sufferers in the UK aged between 51 and 55, has lost three stones in weight over the past month living on just water and vitamin supplements. This is the second time he has gone on strike in a bid to raise awareness for his cause, as in 2009 Gary went 42 days without eating.
In a statement, Grunenthal said: "We sincerely regret the Thalidomide tragedy, which is part of our company's history and always will be.
"We are enormously sympathetic to Mr Skyner's situation and obviously very concerned about his well-being. This is why, when we heard about his hunger strike, we rapidly offered to meet him to discuss his individual concerns."
The campaign has garnered high-profile support in the past from boxer Ricky Hatton to the rock star Gallagher brothers. He will also be supported in his meetings with the pharmaceutical giant by comedian pal Ricky Tomlinson, while former Manchester United goalkeeping great Alex Stepney has appealed to Prime Minister David Cameron for help.
Skyner is hoping that those affected by Thalidomide can finally be awarded the £150 million he is asking for to improve their lives, as he believes the current level of help does not take in to consideration the increased level of care needed as those with the condition suffer deteriorating sight and hearing.