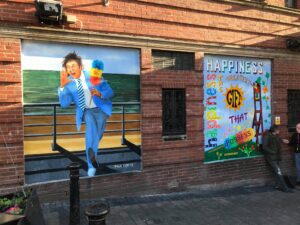 A mural tribute to Liverpool comedian Sir Ken Dodd has been revealed outside the Royal Court Theatre on the second anniversary of his passing.
The mural, commissioned by The Comedy Trust and funded by the office of the Mayor of Liverpool Joe Anderson, was created by artist Paul Curtis, known for his previous works including the Liver Bird wings in Jamaica Street. It was revealed on Wednesday morning by Sir Ken's wife Lady Anne.
The Comedy Trust has also announced plans to hold an annual 'Doddy Day' each year on November 8th, coinciding with the beloved comedian's birthday.
Royal Court press officer, Iain Christie, was delighted with the arrival of the piece.
He told JMU Journalism: "The idea for the mural was brought to us by The Comedy Trust who wanted to commission a memorial to Sir Ken. Ken Dodd as a big part of the history of the Royal Court so they thought that it would be a great fit for the building."
YouTube: Sol Murphy
The Liverpool funny man broke the world record for non-stop joke telling at the theatre in 1974, delivering a total of 1,500 gags in one three-and-a-half hour session.
In the late 1970s, Sir Ken was part of the Royal Court Theatre and Arts Trust, which was able to secure the building from going under with The Ken Dodd Laughter Show in 1978.
Mr Christie added: "I think it looks amazing; we are proud to have it outside our building. Ken kept this building open throughout the 60s and 70s. He made people happy for the whole of his life and if these murals raise a smile then we will be keeping the spirit alive."
Twitter: Royal Court Liverpool
Today was pretty special for us as we invited Lady Anne Dodd to unveil a tribute to her husband, the late Sir Ken Dodd. We've been working with @paulcurtisart and @TheComedyTrust to bring this to the theatre.

It's been two years since we lost the Liverpool legend. #KenDodd pic.twitter.com/8q01kO672U

— Royal CourtLiverpool (@RoyalCourtLiv) March 11, 2020