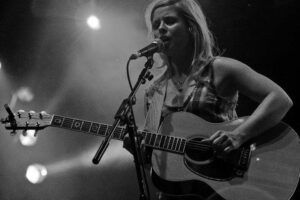 A local singer is celebrating after winning a top industry award for songwriting.
Wavertree singer/songwriter Delta Maid, whose real name is Katie Foulkes, co-wrote hit song 'Tornado' last year with fellow artist Natalie Hemby during a trip to Nashville, after spotting Tennessee's huge tornado warning sirens.
The song was heard by American country group 'Little Big Town', who decided to record it, leading to it reaching number one in the country chart in the USA.
Delta admitted that she could not have foreseen the success.
She told JMU Journalism: "I was ecstatic to see that it was getting so many radio plays and was excited every week to see it at a higher chart position, but I didn't expect a number one, that was the icing on the cake."
The success of the song led to her being honoured in the BMI awards – an annual celebration of songwriters, producers and publishers of the most performed songs in the United States over the last year – in a list which included big names such as Adele, Ed Sheeran and Elton John.
Delta added that it was a dream come true to be acknowledged for her songwriting.
She said: "I've always had such a big admiration for songwriters from the beginning of my musical journey. I think most artists want to be respected as a writer and so to be recognised for writing a song and it becoming hugely successful for someone else is a dream come true."
The artist added that she would be returning to Nashville this week, having been invited to attend a party for the 50 most performed country songs of the year by BMI, hinting that more tunes may be on the cards.
She said: "I am hopeful but it is a competitive business. I love writing songs and the best thing to come away with is a song that you are proud of instead of chasing it. I think it is a lot sweeter to have a successful song that you are not cringing about – hopefully inspiration will hit and another one comes of it."
Delta Maid will return to Liverpool next month, when she plays at The Zanzibar on November 16.