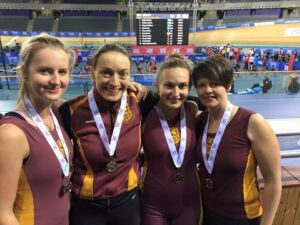 A women's rowing relay team from Wallasey returned home with a silver medal from the British Indoor Rowing Championships in the Velodrome in London Olympic Park this month.
This is the second medal for the Liverpool Victoria Rowing Club, as the team picked up a bronze in February.
Captain Rebecca Andrews, who, at age 19 is the youngest ever captain in the club's history, said: "It's a sport like no other. It's infectious and really addictive. My Grandad pushed me to try rowing when I was 14, and he had been rowing for over 30 years. At first I was sceptical, but it's the best sport I've ever tried.
"We hoped to win a medal again but you can never be sure – you just train your hardest. Everyone is shouting at one another to push harder, and the whole arena is shouting at you too, it's crazy and so loud and we pushed out a new personal best time.
"The last time we competed in February and won the bronze medal, we knew we had to step up our game if we wanted to get on the podium again as the competition gets tougher each year."
The competition, open to all rowers in the UK, had three different options for teams to compete in. Either two kilometres, 500 metres or a team relay event consisting of two rounds, first 4km and then a further 2km.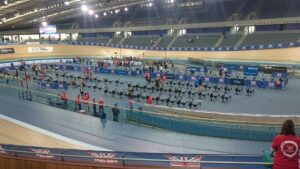 The Velodrome in the Olympic Park has staged the event for the past two years, and it was previously held in Birmingham.
The Liverpool Victoria women's relay team, Rebecca Andrews, 19, Michelle Fisher, 36, Jayne Pumford, 33, and Vanessa Eddie, 25, were determined to bring the sprit and fire of Merseyside to a national stage and managed to knock 32 seconds off their personal best.
Liverpool Victoria also sent their men's team to compete in the relay against the Great British Rowing team. Although they didn't medal, the team secured fifth place and were the highest placing Northern men's team.