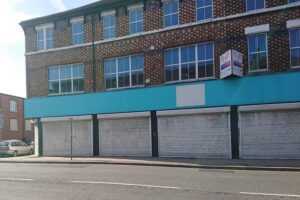 Worried business owners fear for their futures on Kirkdale's Walton Road as firms continue to close on a route blighted by shutters.
A succession of stores packing up and leaving has left the road looking run-down. Despite the presence of major retailers like Tesco, Aldi and McDonald's, other businesses struggle to keep their doors open on one of Liverpool's main roads.
Property developers, Harper James Dobbs, revealed that Walton Road was the fifth worst retail location in the country based on the vacancy rates and how stores met local needs.
The Pet Centre and Aquatics has been a mainstay on Walton Road for decades. Store owner Lorraine Peacock spoke about the decline of the high street, telling JMU Journalism: "Well, I've been here 30 years in May. It's not good, but hopefully somebody will buy the Argos, because that was a big loss to the area. There is interest in the location apparently and hopefully someone will take it over."
Lorraine spoke about how the lack of parking is an issue for her and others, addin: "We have problems coming in of a morning because our entrance is at the back Langham Street and that is where everyone has to park.
YouTube: Shaun Driscoll
"There is also a big problem with beggars in the area and that does stop people coming past our shops. It's intimidating and not all them are actually beggars as well. They work in a sort of gang and take turns going into each individual place."
Steven Kelly, the owner of Kelly's newsagents, said: "The big name shops like Iceland and Aldi are having a big effect on small businesses on the road, especially for my newsagents because last year Iceland started to sell the Liverpool Echo so people would be getting their paper in there instead of crossing over to my shop."
Steven believes the bigger supermarkets have the advantage over the local outlets due to accessing supplies directly. He added: "The more established stores have similar prices now because they're going directly to suppliers whereas the likes of me still get our products from wholesalers for a higher price, so I can't really afford to be lowering prices to compete with the big names."