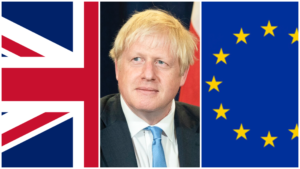 Prime Minister Boris Johnson emerged triumphantly from what could be decisive Brexit talks with European leaders in Brussels last week, although the pathway to securing the United Kingdom's withdrawal from the EU is still far from certain.
Mr Johnson must now navigate the choppy waters of Westminster in a bid to get a majority of MPs to endorse his agreement, against a backdrop of fierce resistance, political manoeuvres and legal challenges to thwart his proposals.
To test opinions among locals and those visiting the city as the debate rages on, we sent a team of more than 80 reporters out onto the streets of Liverpool on Friday.
We asked 380 people from the UK: "Now PM Boris Johnson appears to have secured a Brexit deal with the EU, do you think the public should have the final say in a second referendum?"
The result was a landslide for 'yes', as those who supported a second poll made up 62% of those surveyed (237), while 32% (121) rejected the idea and 6% (22) said they did not know.
YouTube: BBC News
As might be expected, opinions were deeply divided, but one of the themes which recurred on both sides of the argument concerned the conundrum of which is the more 'democratic' thing to do: respect the original 2016 poll result… or ask the people for a final confirmatory vote?
Veronica Brecevich admitted she was unsure about the details, but decisive about what should happen now.
The 20-year-old from Liverpool told JMU Journalism: "Yes, I haven't read enough about it but I would say yes because I think we live in a democracy and since the first Brexit vote we haven't had a say and since then some people have changed their minds."
Her opinion was shared by 73-year-old, Paul Kelly, from Edge Lane, who said: "Yes. The outcome of the first referendum can't be resolved and everyone is split so a second referendum would give democracy back to the people."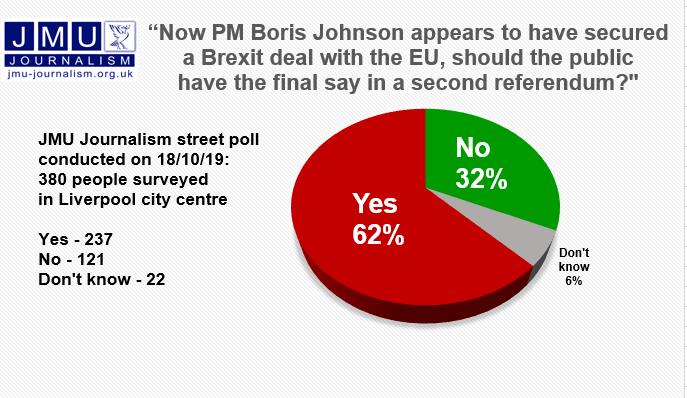 Pensioner, James Stuart, 70, of Kirkby, disagreed, saying: "No. The referendum has already been done. Democracy is democracy and a second referendum would undermine the meaning of democracy."
Matt Gower of Coventry was clear in his view. The 34-year-old said: "No, there shouldn't be a second referendum as in this modern age when politics is in crisis globally, going against a democratic vote and dismissing it would be a bad move. It would erode the UK's credibility as a shining example of a democracy."
Many on the 'yes' side cited the need for more information this time round, including 24-year-old Hannah Roberts from the Wirral, who said: "Yes, definitely. I don't see the point in someone making a decision for the whole country, because with the first one people didn't have all the facts. There should be a second one with everyone having all the facts."
Others blamed MPs and activists for misleading the public in the toxic build-up to the June 2016 referendum and for the way that shaped the outcome. Jean Godden, 72, from Liverpool told JMU Journalism: "Yes, it wasn't portrayed correctly in the first place. Politicians tell lies and they're not accounted for it."
Scroll through the edited comments below to read more of the public's opinions in our exclusive poll.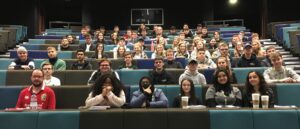 Additional reporting by: Amna Akram; Daniel Ball; Gabriella Bergonzi; Emma Carter; Amy Elverstone; Joe Foley; Saskia Fryer; Ryan Gorman; Romy Grigg; Asma Hamad; Harry Hughes; Oliver Johnson; Dannielle Jones; Catrin Jones; Louise Lemoine; Ailis Finn-Looby; Beth Lindop; Maria Fischer Poulsen; Henry Baines; Joshua Brooks; Christopher Cahillane; Callum Chisholm; Maximillian Conyers; Robbie Dascombe-Rouse; Caoimhin Doherty; Elliott Dooley; Thomas Eves; Luke Feather; Frank Fitzpatrick; Matthew Gallagher; Kieran Hamilton; Cameron Wilson; Jack Hatton; Stephen Hidderley; Andrew Howard; Christopher Magee; George Martin; Anthony McAvoy; Bjorge Dahle Johansen; Ole-Kristian Foerde; Lucas Dube; Cormac McCallion; Martin McElwee; Samuel Millne; Thomas Murray; Curtis Nelson; George Newell; Jake Norton; Owen Parkes; Corey Paterson; Wasim Rashid; Thomas Routley; Louis Ryan; Matthew Sanders; Owen Smith; Thomas Tregillus; Samuel Troy; Ben Wade; Scott Weir; Kyle Williams; Liam Winnard; Cameron Wilson; Michael Magee; Jack McGahan; Sophie Moore; Harley Mullen; Maia Noden; Tess Penman; Luke Pollitt; Shahinoor Rahman; Eleanor Rochell; Radvile Sakenaite; Sophia Smith; Gio'Vanna Thompson; Jack Toner; Matthew Tsang; Kitty Vavasour; Joseph Waddell; Zoe Wheeler; Ella Williams;  Joseph Zebedee; Rodha Alhaidar & Amir Williams.