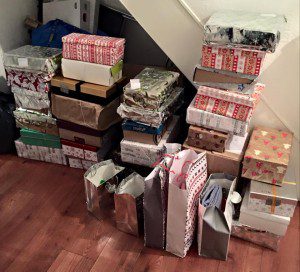 An appeal has been launched to fill shoeboxes with everyday essentials to help the homeless and less fortunate in Merseyside.
Similar to the Christmas shoeboxes many will have filled in primary school for poverty-stricken children, Shoebox Full Of Love provides drop off points across Merseyside from Southport to Wirral.
This allows people to deliver their wrapped up shoeboxes with items like warm clothing and non-perishable food to be distributed across Merseyside.
Vorny Redmond, 25, from Huyton, founded the appeal and said they are still looking for more places to offer up drop-off spaces.
After reading a blog post on Independent Liverpool, Spencer Haizel, a computing student at Liverpool John Moores University, decided he wanted to do whatever he could to help and volunteered to create a website for the Shoebox Full Of Love initiative.
He said: "When I noticed that the appeal was only using a Facebook group to interact with people who might want to help out, I realised that a proper website would be a far better way of providing a core place for the appeal to have a voice."
The community-led charity tries to help the homeless, veterans and the most vulnerable in society. Haizel wanted to spare a few hours of his own time a week to help raise awareness by offering up his knowledge and expertise to a good cause.
The website is still under construction and will be completed by mid-November, but it aims to raise awareness and allow businesses to offer themselves as a drop-off point for the charity.
Haizel continued: "I feel that by having an official website it will not only give the appeal more credibility, it will allow for people to more easily find information regarding helping others during the appeal."
The idea started last year between friends and, with the help of social media, over 2,500 shoeboxes were handed out to those in need. This year is expected to be equally as successful.
Evil Eye Beer and Burrito Shack on Smithdown Road has joined with Shoebox Full of Love to host one of its 'burrito for a pound' days on November 29th from 11am-10pm to support cause.
As important as the items are, Redmond said the most valued part is the card filled with kind words that comes with it. She added: "All we want to do is give people a little gift and to put a smile on the faces of people with nothing to smile about."
To help out or find out more contact: [email protected]