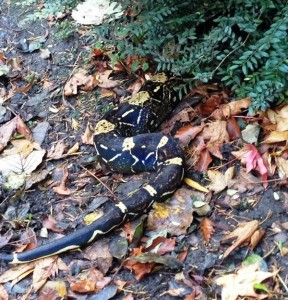 A morning stroll through Sefton Park turned into a shocking event for one Liverpool man… as he came across a 5ft-long python snake slithering out of the bushes.
Peter Agate was walking through the picturesque South Liverpool park on Monday morning after dropping his daughter off at school when he made the stunning discovery.
Mr Agate was quick to capture the moment on film before calling in the experts to deal with the situation. The RSPCA later came out and identified it as a young python.
He told JMU Journalism: "I thought it was such a nice morning that I'd go into the park to take a few pictures. I ended up in the Fairy Glen and after taking a few snaps was about to leave.
"If you've got a camera in your hand you always look around for the next picture to take and the pattern of the snake caught my eye amongst the leaf litter. It took a few seconds to register what it was and then I realised the size of it."
Peter took to Twitter to share his amazement, tweeting alongside the photo: "Big snake in Sefton Park. Not something you see every day! #liverpool."
Mr Agate told JMU Journalism: "Surprise was the first thought that passed through my mind and then whether I should pull it from the bush or not. That thought quickly disappeared though and I left it to the professionals."
The snake has been taken away and is being checked by vets, though it is not known if it is an escaped pet or not. Adders, while uncommon, are known to inhabit parks in the UK, though a non-venomous python is highly unusual.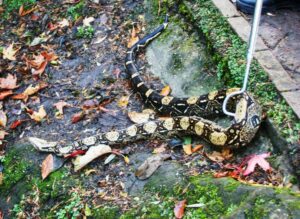 A spokesman for the RSPCA told JMU Journalism: "This morning one of our inspectors was called to pick up a large snake from Sefton Park in Liverpool. The snake – a suspected carpet python – has now been taken to a local vet specialising in exotics.
"We don't know how the snake came to be here. It could possibly be someone's missing pet or it could have been dumped. If anyone has any information about this snake please ring us on 0300 123 8018."
The spokesman added that the RSPCA would always advise caution with unidentified snakes and not to pick one up, unless absolutely certain you know the species and that is it not venomous.