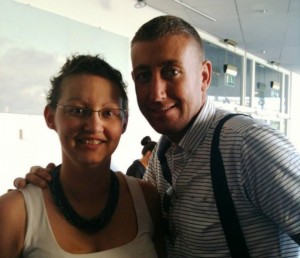 A Liverpool breast cancer patient hopes to reach her target of raising £8,000 for the Linda McCartney Centre by hosting a series of sporting events.
Sheena Privett was diagnosed with breast cancer in January 2013 and has since undergone eight cycles of chemotherapy as part of her treatment at the oncology centre in Liverpool.
The 32-year-old sports scientist has managed to raise over £7,000 so far from hosting five sporting events and hopes that the golfing event in Southport and Ainsdale in May, will help her to reach her final target of £8,000.
She told JMU Journalism: "Since my diagnosis last January I have raised over £7,000 and hope the golf day will help me to reach my goal in May, with other events still to come during 2014."
The competition will be co-hosted by Liverpool-based consulting and business services company S4H at Southport and Ainsdale Golf Club which has previously hosted the Ryder Cup, the British Amateur and the British Ladies' Open.
Through her website, Privett has hosted many successful sports events prior to this one, using social media to promote her fundraising and the work that is done at the Linda McCartney Centre.
She said: "The format for the day will be a Stableford with a team of four players costing £450 per team, which includes light refreshments and drinks on arrival, 18-holes, a three-course evening meal and prizes for the top three winners, longest drive and nearest pin. We feel that the price is exceptional for such a prestige venue."
As a sports scientist who graduated in 2003, her aim is to encourage sports fans, and world-class athletes to support the patients and staff at the Linda McCartney Centre.
"I think with the involvement of Stella McCartney in the design of the London 2012 Team GB kit, it is a fitting tribute to raise money for her Mother's centre through sport," she added.
The Linda McCartney Centre opened in 2000 at The Royal Liverpool University Hospital and welcomes patients from all over the North West who travel to receive the most advanced and innovative cancer treatments available in the UK today.
Entry forms for the event can be requested from Simeon Hart at [email protected] or [email protected] until 28th March.