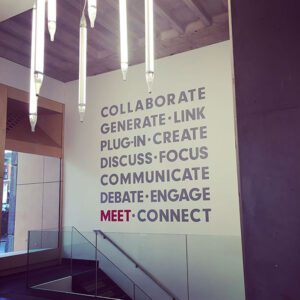 A new venture is offering shared workspaces at low rents for startup businesses in Liverpool as well as individual mentors to guide them.
Launch 22 has opened its first incubator work space outside of London in the heart of Liverpool's business district on Tithebarn Street.
The shared work space is supported by national charity Catch 22 and is designed to offer flexibility for business startups.
Launch 22 aims to create an environment which breaks free from the typical suit-wearing workers in boxed-in offices. With an impressive rooftop garden and 35,000 sq ft open workspace it encourages entrepreneurs to share ideas and develop business plans.
Today saw former Lord Mayor of Liverpool, Gary Millar, discuss his life as the city's business ambassador and the emerging relationship between Liverpool and China.
Events like this are becoming a weekly occurrence at Launch 22, with talks from inspirational business owners, networking events and workshops.
Matthew Kennedy, Launch22's office manager, told the Liverpool Echo: "Liverpool was considered the perfect place to put our model in to. Just like Manchester has branded itself as the 'media city', Liverpool can be the 'start-up city'. It has drive and passion that are the characteristics an entrepreneur needs to succeed."
People can rent desk space part-time for £60 for ten days. Terms range from £120 a month for 12-hour full-time access to office space and mentors every day, a £60 part-time package, and a scholarship scheme aimed at anyone from a disadvantaged background.
The scheme also provides support when it comes to start-up businesses looking for funding, as financing new projects can be difficult. Launch 22 helps to match-make businesses with potential investors.
Graphic design graduate, Faye Hughes, who attends events regularly, told JMU Journalism: "We attended the last event to mingle with other businesses and the atmosphere was just incredible.
"People from all different kinds of businesses would come up to us and ask us what we were doing and then give us advice, it was brilliant. It's great there I love it."