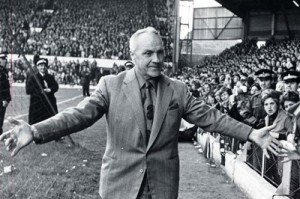 Liverpool Football Club will forever remember 29th September, 1981 as a sad note in its history. It is the day that Bill Shankly, the man who turned a Second Division side from also-rans to champions of England, passed away but left a legacy that helped the Reds conquer the domestic and European game.
A man who was central to forming what became known as "The Liverpool Way", the Scot remains arguably the most famous figure in the entire history of the club. It is fair to say that, without Shankly, Liverpool would not be the world famous institution it is today.
In December 1959, Shankly arrived at Anfield and things would never be the same again. Languishing in the old Second Division, with a crumbling stadium, poor training facilities and a bloated playing staff, the challenge facing Shankly was enormous.
Typically, it was one he would relish, and after realising the need to dramatically transform the club head-to-toe, Shankly and Liverpool would go on "to conquer the bloody world".
But to do this he needed a higher standard of player, with signings such as Ron Yeats and Ian St. John elevating the Reds back to the First Division in 1962. Just two years later, the team would be champions of England and the glory days were back at Anfield.
Shankly was a visionary – dogmatic in his beliefs but always willing to learn from those around him. He introduced Liverpool's all-red kit in 1964, using his captain Yeats as his 'model', with the centre-half made to parade the new strip – said to make him look "Ten feet tall!" – before reporters.
The changes had the desired effect, as the club's first FA Cup triumph was to follow in 1965. A European Cup semi-final appearance was also secured, but refereeing decisions would cost Liverpool dearly in the second leg against Inter Milan. In his later years, Shankly admitted that the semi-final defeat "haunted" him.
Regardless of his achievements on the pitch, it was Shankly's bond with the fans that would cement his position as arguably the greatest figure in Liverpool's illustrious history. Whether it was ticket requests or even playing football with kids on a field which would later be named in his honour, the man from Glenbuck had time for anyone who loved football, and his socialist beliefs endeared him to the Kop faithful.
It is a testament to his success that to this day he is still remembered and revered by both Liverpool and the world of football. A statue of Shankly stands outside the Kop with the words "He made the people happy" engraved at the bottom.
In addition to this, the Shankly Gates were opened in 1982 by his wife Nessie, just a year after his death. Both stand as a permanent tribute to the man who put Liverpool on the football map and laid the foundations for future glory.