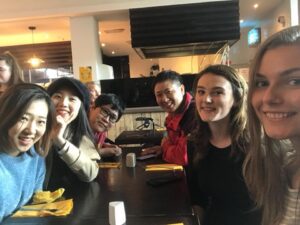 Some JMU Journalism first years had to say goodbye to new-found friends from Shanghai after an exciting week swapping their notepads and pens for lights, cameras and action.
Volunteers were helping out visiting students from China with a 72-hour filming challenge by creating short dramas, some of which intertwined Liverpool with Chinese tradition.
They halted their day-to-day studies to star in one of the films alongside LJMU staff members, Alan Humphreys and Paula Baines. Four filming teams trooped around the city hoping to create the best short film. One, intriguingly entitled 'Half', concentrated on the good and bad parts of a gambling addict's life.
The 15 post-graduates and two lecturers from Shanghai Normal University (SHNU) wanted to learn about working with others and develop an understanding of UK filmmaking. They also took time to appreciate Liverpudlian life by visiting the iconic Giants and eating with the locals.
The two universities are institution partners, with this fortnight-long trip forming the return part of an exchange which took LJMU students to SHNU in July, where they participated in a similar film challenge.
Twitter: Chloe O'Connor
Early start with the students visiting from Shanghai. Today we're finishing off the filming for their 72 hour challenge. Tomorrow is editing then the awards on Monday. @JMUJournalism @LJMUScreen @LJMU pic.twitter.com/9z4Gc5PsaV

— ChloeO'Connor (@chloeoconnorr2) October 6, 2018
SHNU student Lewis Liu told JMU Journalism: "I enjoyed the project – I prefer the atmosphere of education. We all love this place and we believe Liverpool is an old city full of stories and many kinds of culture."
Their week on Merseyside consisted of workshops, tours and mentoring to kick-start their films, culminating in a farewell breakfast at the Liverpool Medical institute.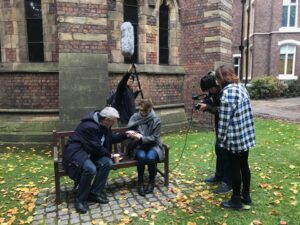 Liverpool Screen School Director, Professor Rachel McLean, attended the event to view the finished products and she praised their hard work, saying: "The films took me through every emotion, from laughter to tears. They were all brilliant."
The Chinese students also enjoyed a short trip to London to see the sights and splash cash on gifts for their friends and family back home.
Despite acting not being in the 'job description', the LJMU volunteers said they thoroughly enjoyed their time in the spotlight and would happily do it again as they also helped the visitors with editing, filming and scene choices.
LJMU student Conor McLoughlin said: "My favourite part of the whole weekend was when we weren't actually working, but sitting in their flat while they cooked traditional Chinese food and teaching us little phrases."
YouTube: NextStepChinaTV