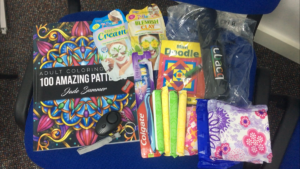 A Merseyside charity has appealed for donations for 'self-care' kits for victims of rape and sexual assault.
The Birkenhead-based Rape and Sexual Abuse centre (RASA) is asking for donations to create self-care kits for women and men, including toiletries, pyjamas, a colouring book/pencils, and a portable radio.
Amy Chaffin-Power, who has been a counsellor with RASA for seven years, decided to create the packages after discussing self-care with clients and discovering that it was something that few are unable to provide for themselves.
She told JMU Journalism: "I was doing an assessment on a young girl who was an asylum-seeker and when we were talking about self-care she told me 'I can't really do that, I've not got anything.'
"I asked if she had a favourite pair of pyjamas and she said no, I asked if she had anything like a colouring-in book and she said: 'I've literally just got a bed and a microwave, that's it.'
YouTube: Laura Kelly
"We've got a few things here that people have been kind enough to donate from our Amazon wish-list, and a few colouring books that we have spare. From that it kind of developed.
"We already knew that there were clients in need so I thought I need to be doing something a bit more for these women and men that come in.
"That's how the self-care came about and I just thought that would just be really nice to give to these clients in need so they have a little bit of self-care for themselves."
RASA is also hoping to create care packages for babies, which will contain nappies, age-appropriate toys, baby wipes/toiletries, newborn gift sets and new mum gift sets.
Along with the self-care kits, the charity hopes to create its own food bank for clients and hopes to partner up with local charity shops to help provide for those in need.
Donations can be made here.