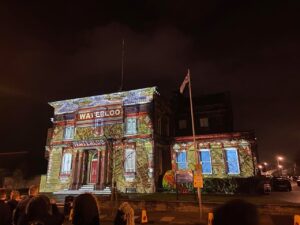 Waterloo and Bootle Town Halls, alongside The Atkinson in Southport, were the backdrop for a light-based extravaganza this weekend in celebration of Sefton's Borough of Culture year.
The Borough of Culture title is awarded to one of the six local authorities within the Liverpool City Region, on a rotating basis. This year Sefton holds the honour for 2020.
A Nightingale's Song – a trilogy of large-scale video projections created by international projection artists Illminos – follows the journey of 'Natterjack Toad'.
This is an endangered amphibian living in the Sefton dunes, with each chapter representing a stage through his life, from egg, to tadpole, to toad. The story connects the history each of the seaside towns together.
The project's concept was based on the Sefton coastline as a space for tourists, day-trippers and families, blended with the unique wildlife, nature reserves and the sea.
YouTube: Sol Murphy
Rob Vale, a creative partner at Illminos, was ecstatic to see the public reactions to the piece.
He told JMU Journalism: "Creating three unique animations mapped to three sites was a huge undertaking, and we've been working on the project from start to finish for almost a year.
"It was really crucial to work with and learn from experts in the ecology and wildlife of the area. We worked with John Dempsey from Green Sefton on this, as well as the history of the sites, working with Andrew Farthing from Sefton Council libraries.
"It's been really wonderful to see the response to the projections. They felt very celebratory of an amazing area of our coastline, and the council team have been very fantastic.
"The artwork looked really beautiful and the people responded brilliantly – we're hopeful of potentially reshowing the projections later in the year for even more people to enjoy."
Twitter: Sefton Council
We loved it and hope you did too! What an end to the Nightingale's Song at @AtkinsonThe and thanks to everyone who made the effort to attend. Something special as part of our Borough of Culture year! #Sefton2020 #MySefton pic.twitter.com/oG2OMopoDD

— Sefton Council (@seftoncouncil) March 15, 2020