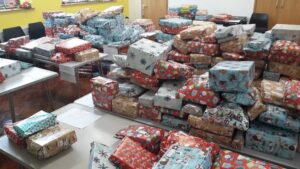 A charity in Bootle is appealing for toys for Christmas hampers to help disadvantaged families within Sefton.
Venus Charity Centre has decided to run its Christmas hamper scheme for only the second year after the success of the previous one.
The group, which works across Sefton, has its 25-year anniversary in 2019 and wants to help celebrate it.
Last year saw the charity donating 504 toys to 56 children, as well as 40 food hampers which benefitted 90 people.
Nikki Thomas, a volunteer at the charity, told JMU Journalism: "We don't want anyone feeling like they need to make the wrong choice to try and provide for their kids. We don't want anyone feeling like they need to get into debt.
"There's a lot of loan sharks, particularly in this area, so we want to alleviate that and that's why we do it."
Twitter: Matthew Nyland
At the Venus centre in Bootle, the charity are currently running a Christmas hamper scheme to help the disadvantaged families in the area @JMUJournalism pic.twitter.com/TMBN6HuKXQ

— Matthew Nyland (@JournNyland) November 19, 2019
Although Christmas is a big month, the organisation is involved in many local projects, focusing on four areas of support predominantly with women and children.
These are mental health and wellbeing, family support, housing and resettlement and hub. These support groups allow the charity to identify families who need aid over Christmas.
Some of the schemes include help for women who have had children removed from their care. The work provides counselling and attempts to help the mother make more positive life choices in the future.
When asked about the charity's work, Nikki added: "The children are at the heart of everything that we do as well as the families that we work with.
"If we can do anything to improve their mental health and make a difference to the life of a child then that's huge for us, that's what we're here for."