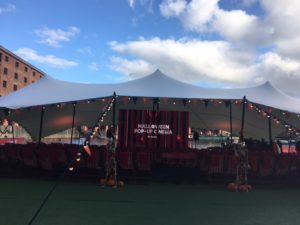 After a very successful stint in the summer, the Royal Albert Dock has brought back its much-acclaimed floating cinema this week.
The concept involves a floating pontoon placed in the water for paying guests to access, where a cinema screen and fancy-looking seats await.
With the spooky season upon us, the Albert Dock, in partnership with Independent Liverpool, is providing customers with a vast array of Halloween-themed movies to enjoy against the picturesque backdrop.
Given its first run in the summer, the floating cinema was met with high demand and was hailed as huge success.
Organisers promise 'relaxed screenings' for those with disabilities and special needs, making adjustments during the film such as the screen brightness being reduced, or sound levels being lowered for those that require it.
YouTube: Tom Battison
https://www.youtube.com/watch?v=qJ76-1A5Qf0
Marketing Coordinator at The Royal Albert Dock team, Vicky Watt, told JMU Journalism about the pull behind the event.
She said: "We wanted to make sure that we did something a little bit different than what Liverpool has seen before, and what better way than to do it on the water? This is our second pop-up cinema, it's been a real success, and working with the guys at Independent Liverpool has really helped with that.
"I think Halloween in the UK is getting a little bit more like America, it's getting bigger and bigger, and Halloween is much more popular. It's not just a case of getting the kids dressed up and going trick or treating anymore, it's a case of activities, things to do with the kids, taking them places, what better way to do it than here/"
The floating cinema Halloween service will run until this coming Friday November 1st.
"We're actually bringing it back this Christmas. So we've got a week of your festive favourites."
Twitter: Tom Battison
One of the more scenic movie experiences as the Royal Albert Docks host their halloween themed floating cinema @JMUJournalism pic.twitter.com/UuDkcVetof

— tom b (@battison_tom) October 29, 2019