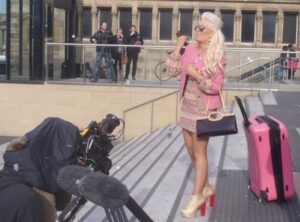 Desperate Scousewives star Jodie Lundstram has hit back at the programme's critics, telling them to reach for the remote control if they don't like the show.
Speaking exclusively to JMU Journalism, the Dingle-born actress said she remains unconcerned with widespread criticism the series has attracted, with Scousers showing anger and disgust at the way members of the cast have portrayed the city.
A defiant Jodie told JMU Journalism: "I'm not going to start having arguments with people who are entitled to their opinion, but if it's causing them that much grief, then just turn off.
"I do represent the new-age Liverpool girl.  We all can laugh at ourselves but there is more to us than all the stereotypes. I think the fact we can laugh at ourselves is a good quality and should be embraced more than undermined."
JMU Journalism Radio: Liverpool public on Desperate Scousewives
Public on Desperate Scousewives
The 25-year-old, who was the last person to be cast in the series, said being in the show represented an opportunity to fulfil an ambition held since childhood.
"My lifelong dream has always been to be an actress, ever since I was a little girl. I want to be in a soap. Once I had my audition, and found out a little bit about it, I knew it was going to be fantastic and I didn't want to miss out."
Lundstram, whose brother, John, plays for Everton FC and England Under 18s, says she is having the time of her life and will feel lost when filming finishes.
"It's been so much fun and I feel when it ends I'm going to miss everyone so much," she said. "We are like a little family now. When the series ends, I won't know what to do with myself."
Jodie also had a few words of sympathy for X Factor runner-up and fellow Liverpudlian Marcus Collins.
"I feel sorry for Marcus," said Jodie. "He was never going to win, they [Little Mix] had four cities behind them so how could he compete? It would've been great if he had won because we need to keep Scousers on the map now."
Although Desperate Scousewives will be off the screen in just a few weeks' time when the eighth and final episode is shown, the blonde actress, who has made the 'Scouse Brow' famous, is hoping the series is merely a stepping stone to a regular position in Albert Square or Weatherfield.
She said: "In five years' time, I hope to be still as happy as I am now, regardless of what I am doing in my career. I want to be the new Peggy Mitchell. I've always wanted to do panto and theatre, so I hope this will lead onto more acting.
"Maybe I'll be in Coronation Street as a Scouse barmaid, something like that. I'd love that."