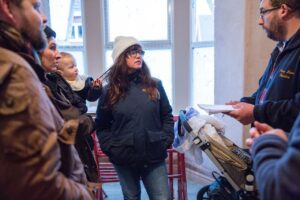 Bold plans to return empty homes in Liverpool back into use are up and running after the Coming Home social enterprise scheme has housed its first occupants.
The radical new initiative lets homeowners take out a loan to carry out repairs on their empty properties, with repayments beginning when they begin to receive rent from their new tenants.
Coming Home was created to help return some of the 9,000 empty properties in Liverpool back to occupation with well-maintained homes available to rent at an affordable price.
Coming Home is spearheaded by Ronnie Hughes, who worked on the Turner Prize-winning Granby 4 Streets projects. He and local artist, Jayne Lawless, had the vision of tackling the local housing shortage while also helping to address the thousands of empty properties in the city.
Mr Hughes told JMU Journalism "Its important because of the way that we're doing it. We don't wait for the whole area to get full of empty homes. What we're trying to do is get into areas early where they've got a few empty houses and do them up and stop the areas, as we've seen in other places, from declining.
YouTube: JMU Journalism TV
He also stressed the importance of attracting homeowners into signing up to the scheme, especially after the success of their first tenants, saying: "It's crucial that we find the owners really who are willing to go along with how we do it.
"It's absolutely vital that we've done the first one. We've done it exactly how we and the owners wanted to do it and we found the tenants before we started, so they had an involvement in the work and in how things were done in the design, so it's all worked out really well."
While providing homeowners with the incentive to develop properties in disrepair, the scheme also gives a relatively affordable opportunity for people to move into their first home – something which has become increasingly difficult in a hostile housing market for first time buyers and tenants.