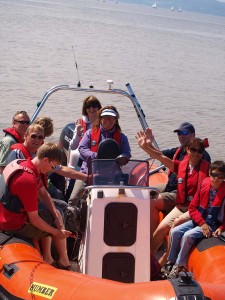 The Hilbre Island boat tour is set to return to the Wirral this April after the sell-out success in 2015.
Last year marked 70 years since Wirral Council purchased the natural beauty spot and tickets completely sold out.
The Hilbre Explorer is a two-hour trip that gives passengers the opportunity to learn more about the islands of Hilbre.
The Wirral Sailing Centre is now restarting its Hilbre Island Explorer boat trips, offering a different perspective on the islands and a chance to see Hilbre's extensive wildlife.
Mike Bird, Lake Warden at the Wirral Sailing Centre, told JMU Journalism: "The tour has been extremely successful over the last five years. Last year we sold out and because of demand we had to create a waiting list. It is only February and we have already sold a lot of tickets for this year's tour."
Normally, walkers see Hilbre when the tide is out. The Explorer boat trip goes to the far side of the islands on the high tide, so passengers can enjoy a very different view.
Mr Bird told JMU Journalism why he thinks the tour has been a success: "The tour has proven so popular as it gives people the chance to see the grey seals, as well as get a look at the islands from the sea."
The islands are a designated Local Nature Reserve and the tour gives people the opportunity to see a variety of wildlife, including Atlantic Grey Seals, Harbour Porpoise and a wide range of bird-life. If time permits, the trip may also include a visit to Thurstaston, further down the estuary.
A Hilbre Explorer trip costs £35 for adults and £25 for children or £100 for a family of two children and two adults. Children must be eight or older.
Trips are dependent on weather conditions. Cancelled trips will be either refunded or alternative dates offered.