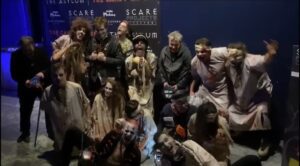 An award-winning scare attraction has arrived in Liverpool for the Halloween period.
A 'scaremaze' containing fully-decorated sets and actors in costumes has been set up in the Baltic Triangle for those wishing to be terrified during the spooky season.
The so-called 'Baltic Asylum' has taken over Camp And Furnace and features a hospital ward, waiting room and operating theatre. Actors will portray the patients in the asylum, and tell its story while guests navigate the tight corridors and characters who will jump out.
The Event Director, who goes by the name of 'Brina', talked about scare projects and bringing the attraction to Liverpool, saying: "It's scare project's first time in Liverpool.
"It was down to some key guys to get our creative heads on to see what we could do with the building from a narrative perspective and an aesthetic and décor point of view.
"I do something called secret party projects which does experiential house music events in unique spaces such as castles and stately homes. Every Halloween we'd create a scare experience within it so I pulled those aspects from that and created scare projects."
YouTube: Lewis Batty
Last year, the maze won best new scare attraction from Scare Con and Scare Tour after they visited the maze in The Botanical Gardens in Birmingham.
Brina talked about the win, saying: "They came to my event in Birmingham and then invited me to the award ceremony. Lo and behold, I won the best new scare attraction in the UK category. It was a real honour to win it, certainly from such a well-known and well-respected authority on these events."
As well as the asylum, there is a family-friendly attraction during the day aimed at kids aged two to 10. 'The Candy Cavern' offers slime making, arts and crafts, spooky dancing and storytelling with actors. The scaremaze is for ages 14+ with groups of 10 going through the maze at a time. General admission tickets are £19.25 and are available on Skiddle.
The maze will run every night until the November 3rd.