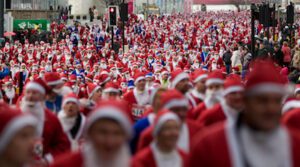 The annual Santa Dash charity event is set to continue in Liverpool despite the risk of it leaving the city after organisers were asked to pay additional charges by Liverpool City Council.
The Santa Dash, organised by BTR, who set up other events such as Liverpool's Half Marathon and the Mersey Tunnel 10K, were asked to pay £6,000 to cover the costs of the road closures on the day of the race. They were then asked to pay an additional £11,000 to make up for the money that will be lost on car parking.
Despite this, the race is scheduled to remain in Liverpool in future years. Alan Rothwell, the director of the Santa Dash, told JMU Journalism: "There is a possibility the BTR office will move out of Liverpool as we are in the last year of a three-year lease. As most of our events will be outside of Liverpool by the end of next year, the event office will have to relocate. However, the Santa Dash will remain unaffected."
He added: "£2,000 was paid in 2013 and this year it has escalated to £17,000. This is because of parking bay suspension on roads used by the Santa Dash. We are expected to pay full day cost recovery although the roads are reopened around midday.
"The public reaction to the implementation of a £17,000 council charge for road closures and loss of parking has been predictable."
The council has reportedly reviewed the size of the bill issued to BTR Liverpool and is considering refunding some of the money.
Around 10,000 people are expected to take part in the race and make their way around a 5K course on Sunday December 7th.
At this time, it costs £26 to enter the race. Tickets are available either at the event office at 23 Hatton Garden or via the online facility.