A Liverpool yachtsman and his parrot miraculously emerged unscathed from a brush with death on the final leg of his round-Britain sailing trip to return home safely into Liverpool Marina.
Paul Hardaker set off on his voyage in May and encountered a series of hazards, including the disappearance of his pet parrot – and trip companion – Finley, who he had to pay a £1,000 reward for after the African Grey went missing off the east coast of England.
Having earlier been forced to pay the four-figure sum to retrieve his parrot from the clutches of shadowy figures in Grimsby, as well as the boat being struck by a bolt of lightning, a freak storm gave novice sailor Paul one final challenge to face.
He told JMU Journalism: "I thought I was going to die. I prayed I would just get home.
"The weather was so bad I had to batten down all the hatches and lock myself in and let whatever happened, happen. I prayed, and half-an-hour later the wind strength halved, changed direction and pushed me home."
JMU Journalism Radio: Paul on how parrot Finley disappeared 
Paul on how parrot Finley disappeared
The duo arrived back to scenes of jubilation as well-wishers lined the marina walls to celebrate Paul's achievement.
Amongst the crowd was his partner, Lisa, who never doubted he would return safely. "I never worried as much as he did about his safety. I always knew he would be fine," she said. "It's been very emotional."
Paul's mum, Dot, was also thrilled to have her son back on dry land, adding: "I wasn't really keen on him going and the last thing I said to him was 'come home safe, please'. To have him back is absolutely fantastic."
The 40-year-old, who only took up sailing eight years ago, set off on his trip in his boat, Zuma, five-and-half
months ago, accompanied only by Finley.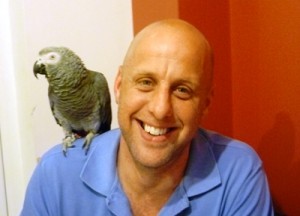 Regular videos tracking the pair's progress were posted on YouTube and attracted over 34,000 hits, and Hardaker says the trip was not only about personal discovery. He revealed: "I've learnt a lot about myself, I'm quite courageous.
"I've also learnt there's a lot of people out there who are fantastic. I couldn't let them down. People who I'd never even met before came to my boat with bags of shopping."
He has also been raising money for the charity Crohn's and Colitis UK, an intestinal illness he was diagnosed with over 10 years ago.
"I have raised over £3,000 and raised mass awareness of the disease," said Paul. "People with the disease are so made up that someone has gone out there and talked about it as it is quite an embarrassing disease, which not a lot of sufferers like to discuss."
He plans to take a well-earned rest before planning his next adventure, possibly a cross-Britain cycle ride, although he has vowed to do something less dangerous next time. "I don't want to do something that scares me as much as that. It isn't good for your soul."