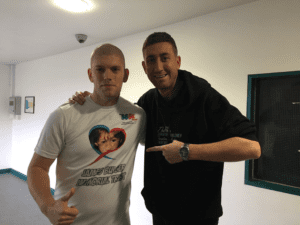 A Merseyside man is running 5K every day in 2017 to raise money for the James Bulger Memorial Trust.
Steve Hunt, 29, from Woodchurch in Wirral, is aiming to raise a minimum of £1,000 and inspire others to challenge themselves for charity.
Having laced up his running shoes for good causes in the past, Steve is now pushing himself to the limit by running the equivalent of around 43 marathons over the year.
He said: "I decided I wanted to try and push my limits to see how much I could achieve while raising money for a local charity that does amazing work, but doesn't necessarily get the awareness that it should.
"I chose the James Bulger Memorial Trust as not only does it deserve more public awareness of the work it does, but the events that happened back in 1993 that eventually led to the charity being set up is something that is every parent's worst nightmare," he added, referring to the toddler's murder in Bootle 24 years ago.
"If the money I raise helps to improve at least one young person's life then it will be worth it."
YouTube: James Bulger Memorial Trust 
The father-of-one is hoping to stay injury free throughout the year and said he is already feeling the physical effects of the challenge.
Steve added: "The challenge is going well and my fitness levels are continuing to increase. I am feeling good, but there is still a long way to go yet.
"Ideally, by the end of this challenge I will have managed to stay injury free and raised as much money as I possibly can. Hopefully [I would] have inspired others to not only push themselves to achieve what they may think is unachievable, but also raise money for a good cause at the same time."