JMU Journalism's Rona Kirwan was stunned to find herself at the centre of a major terrorism alert on the M6 when armed police officers surrounded the bus she was travelling on. Although the episode in Staffordshire turned out to be a false alarm involving an electronic cigarette, it was a frightening ordeal for Rona, as her blog describes. 
It was ten to eight in the morning and I was half asleep, half awake, and I called my mum to let her know that there was a delay on the roads.
The megabus I was on had been stopped for around half an hour and I was beginning to worry that I wouldn't make it to my castings on time; little did I know that that would soon become the least of my worries.
It had now been around an hour and people on the bus were becoming restless. Talk of an accident further up the road was spreading and, in general, people thought this was the reason for the delay.  However it soon became evident that this wasn't the case.  The noise of police sirens filled the air and a sense of worry filled the bus.  The bus driver was not communicating with us and people were discussing what might be going on.
"There's someone in the bushes…" said a voice from the middle of the coach.  At this point I knew that I was potentially in danger, I was terrified.  I started to feel dizzy and anxious.  The driver was still not telling us anything, he was stood at the front of the bus on his phone.
https://www.youtube.com/watch?v=XHO-3iRF2v8
My mum had rung the police to see if they could shed any more light on the situation and told them that her daughter was on board and wasn't feeling well.  She was told that if I wanted to get off the bus for some fresh air I would have to be arrested, handcuffed to a police officer and taken to the hospital by air ambulance.
It was now clear that we were all suspects.  We were told to get off the bus one at a time and leave all our belongings on it. We had to walk with our arms out by our side and there were armed gun men watching us closely.
"Stop there and lift up your top so we can see your waistband!" shouted a policeman. My shaky hands untucked my vest from my jeans, I couldn't believe this was happening to me.  I was then told to carry on walking towards the police, they took down my details, did a full body search and I was checked by a sniffer dog.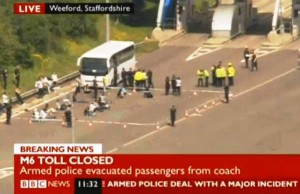 At the scene there were police, ambulances, armed services, bomb disposal unit and fire services.  Me and the 47 other passengers were told to sit down in an area that had been cordoned off.  We weren't allowed to speak to one another and if we needed to use the toilet we had to be escorted by two police officers and leave the toilet door open.
As I was sat on the warm tarmac I started feeling unwell again, I told one of the police officers.  I was then escorted to where the paramedics were set up, they took my blood pressure and did all the usual checks.  He told me to stay in the room while my heart rate got back to normal and I cooled down. Police had to stay with me at all times.I was then taken back out and sat back down, we could see our coach in the distance and see all the services rushing around but still had no idea what was going on.  Then a police officer came and told us that it had been reported that there was a suspicious item on our bus.  All I kept thinking about was what could have happened, I couldn't get my head around the situation I was in.
We were then taken onto a smaller white coach, and told this was for our own comfort as it was getting very warm outside.  We just had to sit and wait for more information.  Time was going so slowly.  At around half past twelve we were told we were being driven to somewhere close by where we would be "reunited with our belongings".  After a half-hour drive we pulled up somewhere off the motorway and parked, a few minutes later the megabus parked by our side.
We then had to sign for our belongings and make sure everything was there.  My phone was flooded with missed calls and texts, my family had been watching the whole thing unfold on the news but were unable to get in touch with me.  I quickly made calls to let everyone know that I was okay. We were then told by the police that we could either continue on our journey to London on the same megabus or go back to Manchester.
It was around two o'clock now and I had missed my castings, so I opted to head back to Manchester along with six other passengers.  There were too many thoughts whirling round in my head, I was unable to process any in particular, so I sat back, plugged in my iPod and zoned out until I arrived home.
There was nothing suspicious found on the bus, and I can't explain how glad I am about that.