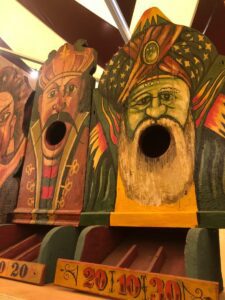 Looking for somewhere to clown around? A new circus and carnival-themed bar is juggling its way to the Baltic Market to offer an entertaining twist on the drinking and dining experience.
Albus Wolfgang's 'Spectaculum' is bringing a new dimension to the Stanhope Street village, already occupied by the likes of the Peaky Blinders Bar and the Baltic Market Food Market.
Best friends and Ghetto Golf business partners, Dan Bolger and Kip Piper, are behind the project. The duo aims to bring a "great immersive atmosphere with traditional carnival games".
After opening in 2016, Ghetto Golf was an instant hit, bringing new ways to play the game and they have since opened a number of bars in Liverpool, including broadening their crazy golf horizons to Birmingham.
In the big marquee at Spectaculum, you can relive childhood carnival games such as Hook-A-Duck, a kissing booth, Play Your Cards Right and Ring Toss, to name but a few. Vintage novelties like candy Floss and popcorn will also be available when the bar opens at the start of next month.
YouTube: Stephen Killen
The idea was sparked following a chat over a coffee. The Baltic Triangle has a wide variety of bars and restaurants for everyone's taste, but the directors of Spectaculum wanted to create a prize-driven experience that was just for adults, combining it with food, cocktails and live music.
Director Mr Bolger spoke about the motivation behind the unique bar. He told JMU Journalism: "We are big kids at heart and we feel all the fun these days is directed at children.
"There will be no better feeling than when we see how happy an adult gets when they realise a once a childish activity has been created and delivered to them."
The grand opening is at 6pm on Thursday November 1st and entry is free. The outdoor carnival will be open Thursday-Friday 6pm until 10:30pm, opening on Saturday and Sundays at 12pm before closing at 10:30pm.