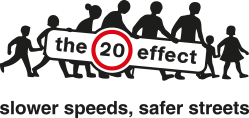 Residential areas throughout Liverpool have changed to 20 miles per hour (mph) speed limits in order to cut down on the amount of casualties in road accidents.
The  city has been split up into seven 20mph zones, including Fazakerley, West Derby, Knotty Ash, Norris Green, Speke and Garston.
The sixth, and most widespread zone, which includes Old Swan, Tuebrook and Kensington, is the latest one to use the new speed limit.  The seventh zone will cover areas that include Anfield, Everton and Kirkdale.
The campaign, called the 20 effect, has been formed in partnership with Liverpool City Council, Merseyside Fire & Rescue service, Merseyside police, Alder Hey children's hospital and Liverpool's Primary Care Trust.
Victoria Banks, a technician in road safety engineering, told JMU Journalism: "The number of collisions in residential areas has been an issue for a number of years.
"The first calculations show that there will be a reduction of 54 casualties per year."
Studies show that vehicles driving around residential areas at 20mph will help reduce serious casualties by 22% and if a pedestrian is hit at 20mph there is a 90% chance of survival, compared to 50% if hit at 30mph.
Councillor Tim Moore, Liverpool City Council's Cabinet Member for Transport welcomed the initiative.
He said: "The 20 effect aims to change the behaviour and help make our roads safer for everyone."
Dr Paula Grey, Director of Public Health for Liverpool said it is a major step forward for road safety in Liverpool.
She said: "Slowing down our residential streets to 20mph and changing the speed culture in the city will save lives and reduce the number of road collisions affecting some of our most vulnerable residents."