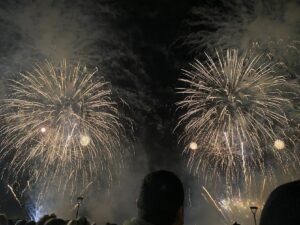 Thousands of people gathered on the banks of the Mersey as the River of Light fireworks display returned for the fourth time.
The explosive display, lasting 15 minutes, featured a collection of brightly-coloured fireworks alongside a music track featuring artists who have been popular this year in Liverpool.
The fireworks were a part of Culture Liverpool's nine-day light festival. Culture Liverpool worked with Liverpool City Council to create an immersive light experience and display for the public.
Head of creative development at Culture Liverpool, Robin Kemp, told JMU Journalism: "We have some incredible light installations which have changed the waterfront and have totally transformed the area by some amazing light artists."
According to Liverpool City Council, last year the event delivered a £3.9 million economic boost through spending from visitors to the event.
Twitter: Olivia Wagg
I'm here at Liverpool's light festival watching the fireworks for @JMUJournalism @LivLifeMagazine pic.twitter.com/FkxxqHVcnd

— Olivia Wagg (@OliviawaggL) November 3, 2019
Jemma Comley, 29, who was in the crowd last night, told JMU Journalism: "This is the first time I have been, I really enjoyed it. The whole thing was amazing, and it's great to see the city so busy."
The waterfront was transformed into a visual sound, light and colour experience following the installation of work from artists and organisations from across Europe.
Situated in Mann Island Atrium, one of the installations, called Globoscope, was designed by British company 'Squidsoup'. Their waterfront display is described as a place where virtual and physical worlds collide.
Another light display on the waterfront is called Spiders, which is being displayed on the Cunard Building and features a monumental light sculpture that activates every 30 minutes.
Although the fireworks are over, the light displays are still available to view up until November 9th.
YouTube: Olivia Wagg