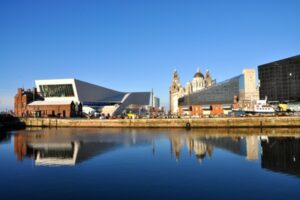 The city of Liverpool is getting shipshape and set for a programme of new features at this year's Mersey River Festival.
The international festival has been running for five years and is a free event which has new activities lined up for its appearance in Liverpool this summer.
For the first time, the British ThunderCat Racing Tour will host rounds of championship racing where more than 18 speed boats will battle it out on the River Mersey, reaching speeds over 65mph.
Fiona Pascoe, event director, said: "We are really pleased to be coming to Liverpool and have heard how fantastic the local community are at getting involved. We hope to provide some memorable entertainment for all the family."
A number of demonstrations will also take place as the UK's only professional wakeboard tour is coming to the festival and will see some of the top athletes compete at Salthouse Dock using floating jumps and ramps to perform tricks.
Managing Director, Tim Woodhead, said: "The Pro Wakeboard Tour will bring the UK's best wakeboarders into the heart of Liverpool. Spectators can get full 360 degree viewing in the amazing Salthouse Dock and will be very close to the action. Huge jumps will see the wakeboarders performing 720's, 'tantrums' and hopefully some double flips."
Following its £3.8million restoration, the Daniel Adamson steam boat is sailing into the festival where it will be in full working order for passengers for the first time in 95 years.
The 113 year-old boat will take passengers on a cruise to a floating, interactive museum.
As always, there will be a number of sessions where visitors can get involved as well as jet-skiing demonstrations and fly-boarding displays.
Assistant Mayor and Cabinet member for Culture, Tourism and Events, Councillor Wendy Simon, said: "The line-up for this year is so strong and it is a credit to everyone involved that the River Festival has established itself as an event that external organisations want to be a part of."
The festival runs from Friday June 3rd to Sunday June 5th.