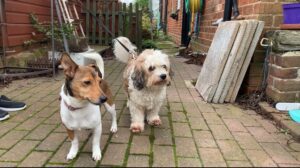 Concerns have been raised about a spike in the number of people buying 'lockdown puppies'.
The fear is that due to the recession and people returning to work when coronavirus lockdown restrictions are removed some new dog owners will cease to have the time or money for puppies and take them to dog rescues.
The RSPCA have announced its emergency hotline has received 45,181 calls so far this year with 1,726 of those coming into the Merseyside offices. They are also concerned about an influx of puppies coming into the UK to meet increased demand.
A statement from RSPCA Chief Executive Chris Sherwood, said: "We have seen a rise in people searching for dogs to adopt during lockdown, which is fantastic, but at the same time, there appears to be a rise in people looking to buy puppies.
"We know that there are not enough puppies bred in the UK to meet the demands of those who want to buy them and, worryingly, there appears to be a surge of puppies coming in from outside the UK."
The lack of socialisation and training classes that has come with lockdown has also dramatically hindered the behaviour of some dogs.
In response, animal charity Blue Cross have opened a behaviour hotline to assist anyone who is struggling with their pets, to avoid them being abandoned.
Claire Haynes, an animal behaviourist at Blue Cross, said:
"For dogs, socialisation can be somewhat more difficult at the moment with social distancing.
"If people are working from home and it's dark in the evenings so you can't really go to different places. Some training classes have been suspended and with the increase in the breeding of puppies, a lot of training schools have reported that they are fully booked for 2021."
Due to an increase in people purchasing a companion, prices have skyrocketed. According to Pets4Homes the average price for a puppy has increased by £1,000.
Mrs Haynes said: "Due to the increase in demand, value increases. Breeders have seen people buying for themselves, but then selling the puppies on for even more money.
"So breeders have ended up having to increase their prices to try and make sure that when a puppy goes home, it's going into its permanent home."
See the full interview with anmal behavourist Claire Haynes>>>